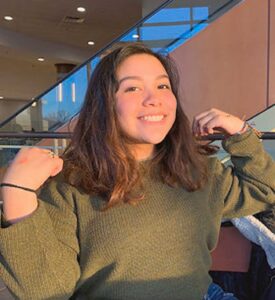 Touro College, the nation's largest institution of higher education under Jewish auspices, and the Orthodox Union (OU), the nation's oldest and largest umbrella organization for the North American Orthodox Jewish community, have awarded Yael Gonzalez from Schenectady its Sarah Rivkah and Dr. Bernard Lander Scholarship.
Yael, daughter of Margarita and Florentino Gonzalez, an Albany High School senior, plans to use The OU/Touro scholarship, which covers half tuition for up to four years—$9,975 a year —to attend Me'orot  Seminary, a Jewish women's seminary in Jerusalem with a focus on Judaic studies, beginning in the fall for a one-year program.
The scholarship is awarded annually by Touro College and the Orthodox Union to outstanding NCSY graduates, the OU's international youth movement, who choose to attend one of Touro's Lander Colleges in New York City. Gonzalez served on the chapter, regional and national NCSY board, and will attend Me'orot Seminary on the Touro College Israel Option.
"Yael's personal spiritual growth over the past five years, compliments her considerable academic prowess and passionate desire to help others," said Director of NCSY's Northeast (Har Sinai and NER) Region Devora Weinstock.
"These young adults represent the future leaders of the Jewish community," said OU President Moishe Bane. "Throughout their experience in NCSY, they have exemplified leadership and we are proud to help invest in their futures."
The late Lander served as president of Touro for almost 40 years, until his death in 2010. He built Touro from a fledgling institution with only 35 students in 1971 to a school of18,000 undergraduate and graduate students across the United States and in Israel, Germany and Russia, making Touro the largest not-for-profit independent institution of higher and professional education under Jewish auspices. He also served  on the board of the Orthodox Union for almost 70 years.