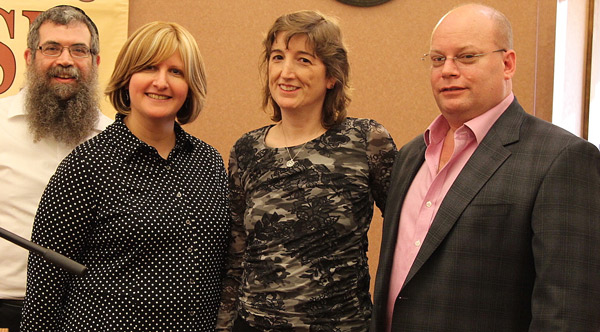 Prior to the University at Albany commencement ceremonies, Shabbos House Rohr Chabad Jewish Student Center honored 30 students of the Class of 2018 to note their involvement in Jewish campus life. The program included a buffet dinner, a memories slideshow featuring hundreds of photos spanning the students' years at UAlbany, a student roast comparing each of the graduating students to a different musical, the class photo, and presentations given to each graduate.
Rabbi Mendel and Raizy Rubin of Shabbos House presented each graduate with A Taste of Shabbos House cookbook with a letter inside highlighting that student's contributions. Ten select students who had served in communal leadership positions were also given token objects (including a pulley, a duck, a ladle, a ceramic egg carton, wooden steps, a stapler, etc) each with a plaque explaining that object's connection to their contributions. Each graduate also received a framed hamsa with UAlbany's Fountain in the background as a parting gift from the UAlbany Hillel, presented by Rabbi Nomi Manon, Hillel director, and Herut Admasu, Hillel's Israel Fellow.
Jesse and Mindy Holland were the featured speakers. They spoke as a duo, highlighting the importance of having a non-competitive team-mindset in marriage. Mindy, a school librarian and UAlbany alumnus spoke of the difference between books that you are required to read and books that you love to read, and how through books one may experience many different lives. She also spoke of her change of career from social worker to librarian, and how she still considers herself "unfinished" and open to new life opportunities. Jesse spoke from the lens of his real-estate business, describing the difference between a job and a career. He spoke of the power of integrating all that you see around you into what you do. He had students imagine themselves one day before death and asking themselves several basic questions about the life they had lived. He then showed how choices made today help lead to the results we'd like to have at the end of our lives. He ended by speaking of the value and benefits of involvement in Jewish community.
In closing Rabbi Manon of Hillel shared five thoughts relating to graduation learned from this month's closing of the Interfaith Center, formerly known as Chapel House, and Hillel's relocation to offices inside the Campus Center building.