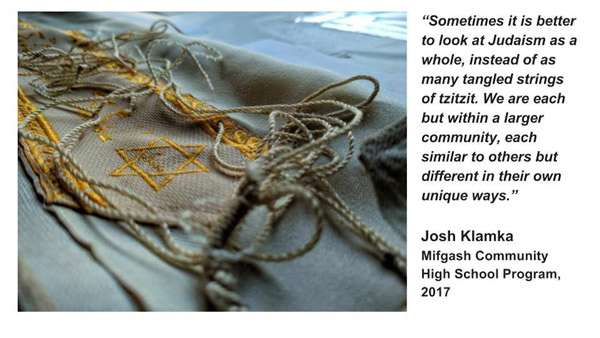 Mifgash Jewish Community High School student Josh Klamka  earned  international recognition recently for his photo entitled "Shawls and Strings," which was displayed in Israel at Beit Hatfutsot, The Museum of Jewish Peoplehood in Tel Aviv, Israel.
The Mifgash program offered a course in its fall semester entitled "Jewish Lens," which was taught by Josh Cooper -Ginsburg.
Ruth Malka,  executive director of Mifgash, explained, that as part of the educational process, participants in the Jewish Lens competition engage in three activities: reviewing the art of photography; observing and analyzing peers' photographs; and exploring a photography collection capturing the Jewish world. The course was developed by Zion Ozeri, photographer, and the Center for Educational Technology in Israel. The last assignment in the educational segment was to create creating a photograph inspired by the theme "My Connection to the Jewish People." Each photo was accompanied by a "Photographer's Note" — a short text of up to 50 words with the photographer's details, plus, insights about the photo and its Jewish connection.
Klamka, son of Jeffrey and Rebecca Klamka of Slingerlands, also received a certificate of special recognition from Itamar Kremer, the director from the Koret International School for Jewish Peoplehood Studies.
The 2018 exhibit is online: The Jewish Lens 2018.