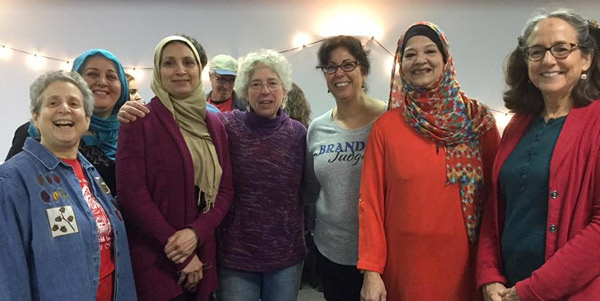 Five members from the two local chapters of the Sisterhood of Salaam Shalom and their friends participated in the Congregation Berith Sholom Christmas Meals program on Dec. 25. The effort to provide a day off to the Troy Meals-on-Wheels staff included packaging 100 meals and gifts. It was also part of the group's annual Sadaqa/Tzedaka Day of Giving.
According to organizers, The Jewish and Muslim Sisterhood group of 160 chapters builds bridges of trust along religious and cultural lines, as members explore one another's faith traditions and work together to put and end to acts of hate.
Members of the Muslim Soup Kitchen also joined with the Berith Sholom Christmas Meals program.
Pictured  from left, Audrey Seidman a member of SOSS and Berith Sholom along with Nooria Rasouli, Farzana Syed, Mishka Luft, Lina Hellman, Humera Khan and Ann Gainer.