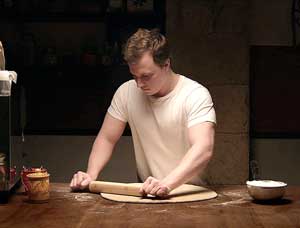 SCHENECTADY – The Schenectady Jewish Community Center will highlight the film "The Cakemaker" this month as part of its annual Jewish Film Festival. The film is not rated, but includes mature content, according to organizers,
In this film, Thomas, a German baker played by Tim Kalkhof, is having an affair with Oren, an Israeli married man. When Oren (Roy Miller) dies suddenly, Thomas travels to Jerusalem in search of his lover's family to find out more about his life. He begins working for Anat (Sarah Adler), Oren's wife, in her café as he continues to hide the truth about his relationship with her late husband. With Thomas' baking, the café begins to flourish and the two grow closer, forming a strong bond united in grief and the urge for connection. As their relationship grows, Thomas continues to stretch his lie even further as he involves himself in Anat's life far beyond what he had intended.
Seth Marnin, board chairman of Keshet, an organization that works for equality for LGBTQ Jews and their families will lead a discussion on the Zoom platform on Sunday, May 31, at 8 p.m.
Marnin is also the director of training and education for the office of equal opportunity and affirmative action at Columbia University where he leads the college's harassment and discrimination prevention efforts. Marnin is a longtime leader and advocate in higher education and law and has spoken nationally and internationally on LGBTQ issues, hate crime laws, discrimination, civil rights, and other related topics. A native of this region, he began his career in higher education at University at Albany in student affairs and residential life.
"The Cakemaker," created in 2017, is 113 minutes. It is in German, Hebrew, English with subtitles.
Additional information about viewing the film, and registration for the discussion with Marnin may be obtained on the Center's website, http://www.schenectadyjcc.org/arts/jewish-film-festival or by calling 518-377-8803.