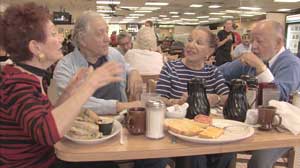 SCHENECTADY – The Schenectady Jewish Community Center will present the film "The Mamboniks" as part of its Virtual Fall Film Festival. The film will be made available online as will a discussion led by the film's director, Lex Gillespie. The discussion will be held on Sunday, Dec. 13, at 7:30 p.m. The film will be available from Friday, Dec. 11 until the time of the discussion through a link that may be accessed after registering.
In this documentary film, soul and Cuban song meet on the dance floor as Jewish Americans seeking a diversion after the war fall head over heels for the hot-blooded mix of sultry, infectious Latin and Afro-Cuban rhythms coming from Havana. The mambo's rise is traced from Cuba to its peak popularity in neon-splashed New York, the art deco hotels of Miami Beach, and the resorts of the Catskills. Against an upbeat Big Band soundtrack, the free-spirited mamboniks of yesteryear reunite to spin colorful tales, recalling their love affair with the Cuban dance craze and their kinship with diverse cultures at a time of racial segregation and anti-Semitism. With a soundtrack including Tito Puente, Celia Cruz and mambo king Pérez Prado, the film explores a mostly unexamined aspect of Jewish life and culture, according to the screening organizers.
Gillespie is an independent radio and television producer in Washington, D.C. His emphasis is music, culture, travel, and history. His topics range from the music of the Andes, to the disappearing American cowboy, to a profile of four Latina students competing in Chicago's high school science fair. He produced the series "Let the Good Times Roll", a 26-hour documentary series on rhythm and blues music that won a Peabody Award in 2005. Gillespie also served as a producer with Smithsonian Productions at the Smithsonian's National Museum of American History on the series Jazz Singers and Black Radio: "Telling It Like It Was."
Cost of the film is $6 for SJCC individual members and $12 for individual nonmembers, or $11 for member households and $22 for nonmember households. Registration for the film and discussion, may be obtained   at http://www.schenectadyjcc.org/events/jewish-film-festival/ or by contacting  Jewish Cultural and Adult Programming Director Judy Ben-Ami at judyb@schenectadyjcc.org.