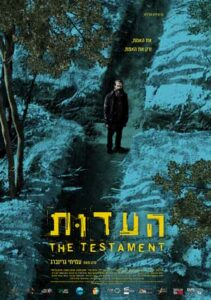 SCHENECTADY–The Schenectady Jewish Community Center will present the film "The Testament" as part of its annual Jewish Film Festival, on Saturday, Oct. 12, at 7:30 p.m. and Sunday, Oct. 13 at 2 p.m. at the Schenectady Center. Following the premiere of the film on Saturday a discussion will be led by Dr. Denis Brennan, retired American history professor at Union College and Niskayuna Town historian.
In this film, Yoel, a senior Holocaust researcher, is in the midst of a widely covered legal battle in Austria concerning a massacre of Jews that took place toward the end of WWII. As he investigates, an influential family on whose land the murders took place look to build a real estate project to cover up the massacre. As he seeks to find the truth, Yoel discovers his mother testified on the matter as a Holocaust survivor and reveals truths about her past that he didn't know about. He must now continue his investigation while running the risk of ruining both his personal and professional life.
"The Testament," is a 2017 Israeli film. It is 90 minutes and in Hebrew, German and English.
Brennan has taught American history with a focus on the 18th and 19th centuries at Union College for the past 16 years and recently retired this summer. Among his degrees is a doctorate in American history from the University at Albany.
Schenectady Jewish Film Festival tickets are $10 for non-JCC members and $5 for JCC members. Kosher refreshments are included with admission. Details about the Festival series, may be found at http://www.schenectadyjcc.org/arts/jewish-film-festival.