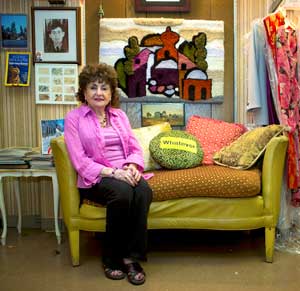 SCHENECTADY– The Schenectady Jewish Community Center (SJCC) will present the documentary film "Big Sonia" as part of its virtual Fall Film Festival. The film will be made available online along with a discussion led by the film's director, Leah Warshawski. The discussion will also be held virtually on Sunday, Nov. 15, at 7:30 p.m. The film will be available from Friday, Nov. 13 until the time of the discussion through a link that may be accessed after registering.
"Big Sonia" tells the story of Sonia, who is one of the last remaining Holocaust survivors in Kansas City and one of the only survivors there who speaks publicly about her wartime experience. At 15, she watched her mother disappear behind gas chamber doors. Her teenage years were a blur of concentration camps and death marches. On liberation day, she was accidentally shot through the chest, yet survived. This documentary interweaves Sonia's past and present, using first-person narrative with stories from family and friends.
The film made in the U.S.A. in 2016, is 90 minutes and in English.
Director Warshawski, Sonia's granddaughter, produces/directs documentary-style features, television, commercials, and branded entertainment in remote parts of the world. Her first feature, "Finding Hillywood" won six awards including the Sebastopol Doc Festival Critic's Award and the Napa Film Festival Audience Award. Warshawski's career in film began in Hawaii working in the marine department for "Lost" and "Hawaii" and she had the position as consulting producer for "The Wild." She advises filmmakers on outreach, marketing and hybrid distribution plans. In addition, Warshawski co-founded rwandafilm.org, for Rwandan filmmakers.
Cost of the film is $6 for the Center's individual members and $12 for individual nonmembers or $11 for member households and $22 for nonmember households. Registration information may be obtained at http://www.schenectadyjcc.org/events/jewish-film-festival/ or by contacting Jewish Cultural and Adult Programming Director, Judy Ben-Ami at judyb@schenectadyjcc.org. The Center may also be reached by calling 518-377-8803.