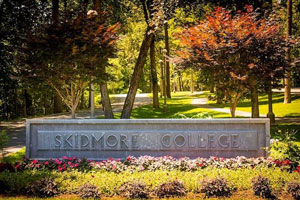 (JNS) – New York's Skidmore College in Saratoga Springshas granted a proposed pro-Israel student club a trial period a week after initially rejecting the club's request. A spokesperson for the private college said in a statement to the Jewish Journal that on March 19, the school's Club Affairs Committee had a follow-up discussion with leaders of the Progressive Zionists for Peace (PZP) "to clarify technical matters of definition and scope."
After the meeting, the committee voted to approve the club for a trial period, which is required before it can officially recognize the student organization.
"This was never an issue of religion or ideology," said the spokesperson. "Skidmore does not and will not tolerate anti-Semitism or religious discrimination of any kind. Skidmore seeks to create a welcoming, safe and inclusive environment for all, and there is no place for discrimination at Skidmore."
The committee initially denied PZP a trial period on March 12 over concerns "that a dialogue-focused club with one perspective being conveyed could be troublesome."
The committee, which previously granted a trial period to the anti-Israel group Students for Justice in Palestine, received backlash for the decision against PZP. The club's leaders appealed the decision in front of the student government on March 19.
The Foundation for Individual Rights in Education said it applauds Skidmore's student government "for ultimately reversing course and recognizing PZP in a viewpoint-neutral manner," adding that it hopes "Skidmore's student government continues to comply with the college's commendable promises of freedom of expression as it considers other prospective organizations in the future."