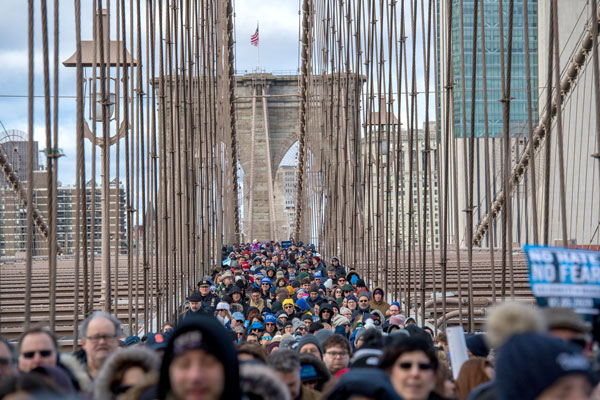 …I'm heartened to see this amazing show of support and solidarity. Literally over 10,000 people have shown up to show support and love for the Jewish community. And that's New York at her best. And it's fitting. Because what has happened in Brooklyn, what has happened in Monsey, New York was an attack on every New Yorker. And every New Yorker has felt the pain. Discrimination, racism, anti-Semitism is repugnant to every value that every New Yorker's holds dear. And it's repugnant to every value that this country represents. Racism and anti-Semitism is anti-American and we have to remember that.
It is ignorant of our history because to know the history of the Jewish community is to love and appreciate the Jewish community because New York would not be New Yorker without the Jewish community. It is intolerant of who we are as a people. It's intolerant of our diversity and our humanity and it is also illegal. And while we're here today in the spirit of solidarity and love, government must do more than just offer thoughts and prayers, government must act. This is illegal and it is government's responsibility to protect the people of the State of New York and the State government will be doing just that. As soon as the Legislature comes back I'm going to propose a new law for the State of New York that calls this hate what it is— it is domestic terrorism. These are terrorists and they should be punished as such. We're going to increase the State Police force and the Hate Crimes Task Force so we have more State Police in vulnerable communities.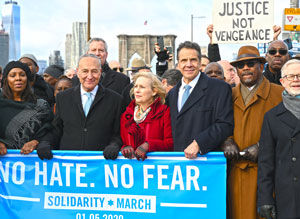 We are going to work with schools all across the state to make sure our young people are educated on our history and our diversity and the strength of that diversity. We'll be working with faith leaders, because from every pulpit, every podium to every congregation in this state, we have to be condemning these acts.
And today the state is going to make an additional $45 million available to non-public schools and religious institutions for security. We also ask every New Yorker to be involved in this crusade today. And if any New Yorker has any information about a possible attack or an attack that has happened, we ask them to be active and to help us thwart these attacks. We have a 1-800 number – 1-877-NO-HATE-NY. If you have any information, we have that tip line open, let's all stand together and united.
These acts of hate may not have started in New York —we've seen them across the nation —but these acts of hate must stop and end in the State of New York, and that's New York at her best. Everyone today says the same thing: No hate in our state, period. We won't tolerate it, we condemn it, we stand united against it and we are going to act against it. Let's march. Thank you and God bless you.