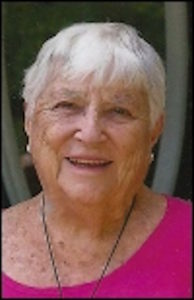 SCHENECTADY–Congregation Gates of Heaven (CGOH), announces that Sonia Rubenstein has been chosen by the CGOH Board of Advisors as the recipient of the 2018 Distinguished Service Award. The award will be presented at a Shabbat service on Friday, May 25, at 7 p.m. at the temple, 852 Ashmore Ave., Schenectady. An Oneg Shabbat will follow services, both are free and open to the public.
The Distinguished Service Award, established in 1997, is given to an active member who has been a member of the congregation for a minimum of 25-years and who has demonstrated during that time, through leadership and service in a variety of areas, a continuing commitment to the congregation and the community.
Congregational Involvement
Sonia and her husband Alan married in 1949. They resided in Schenectady, but moved away to Erie, Penn. for a number of years before returning to Schenectady. They rejoined Gates in 1977 with their two teenage sons, Daniel and David and daughters, Leah and Lisa, who were in college. She received a bachelor's degree in sociology from Russell Sage College,  and a master's degree  in education from the University at Albany. She also studied accounting at Gannon College in Erie. She has worked as a teacher and an administrator.
As a member of Gates, Rubenstein has led many sisterhood programs. She helped start the soup kitchen, co-wrote the first Women's Seder, wrote the original sisterhood Shabbat service, coordinated an interfaith get together, and  has participated in Gates Thespians.
She was a third grade teacher in  the Gates' religious school, has been a chairwoman of the religious school committee, and served on the board of trustees. She is active in Torah study, knitting, and community garden groups, and for many years has been coordinating the sisterhood's a.m. book group.
Work In The Community
Rubenstein is  a longtime member of the League of Women Voters and has served as its treasurer. She has  served as a Democratic campaign coordinator. She worked on the campaigns of several Schenectady politicians. She headed-up the County Senior Aide Program, where she worked to train and place seniors back into the workforce. Rubenstein has also served on the Jewish Community Center (JCC) Cultural Committee, the JCC Board of Directors, and on the Board of the Shaker Historical Society.