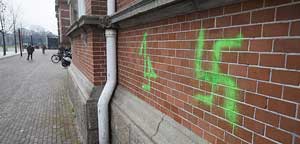 (Israel Hayom via JNS) – Following a series of anti-Semitic incidents across Europe in recent days, World Zionist Organization vice chairman Yaakov Hagoel on Monday, May 4, called for urgent action.
"Anti-Semitic events have become commonplace for the Jews around the world. Unfortunately, for worldwide governments, the window of time to build a plan to eradicate anti-Semitism is running out," said Hagoel.
Among the anti-Semitic incidents were inscriptions such as Juden Raus ("Jews out") appearing on the walls of a cemetery in Soveria Mannelli in southern Italy, and swastikas and anti-Semitic slogans being painted in the stairwell, on the sidewalk and in front of the house of Sherlock Baines, a 65-year-old Jew living in Dusseldorf whose parents were concentration-camp inmates.
In Berlin, a woman was speaking Hebrew with her children while shopping when a foreign man turned to them and said, "These Jews are everywhere, get away from here, Zidovsky scum" (in Polish, Zidovsky can be translated to "Jew"; in Russian it is an anti-Semitic word).
"Bystanders noticed the anti-Semitic insult without responding to it," said the WZO in a statement.
In Weimar, Germany, portraits of survivors of the Buchenwald concentration camp on display as part of an open-air exhibition were vandalized.
Hagoel warned that such incidents will only increase as the coronavirus crisis continues.
"Coronavirus-related anti-Semitic events will escalate, and become even more violent and physical," said Hagoel.
This article first appeared in Israel Hayom.