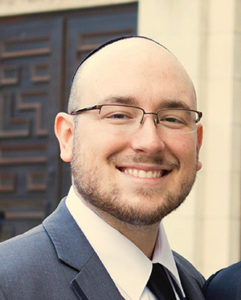 Student Cantor Stefano Iacono will join Rabbi Matthew Cutler on the bimah for his first Shabbat service at Gates of Heaven, at 7 p.m. on Friday, Aug. 4.  The community is welcome to attend.
Iacono is a cantorial student at the Hebrew Union College Jewish Institute of Religion's Debbie Friedman School of Sacred Music. He recently returned from a year of study in Jerusalem. The School of Music pairs student cantors with smaller congregations so that the student cantors can get on the job training with a practicing rabbi as the mentor. Iacono will join the congregation two weekends a month to lead Friday night and bar mitzvah services and to teach music in the religious school. Stefano will also be the primary cantor for the High Holy Day services this year.
Iacono is from San Antonio, Texas where he received his bachelor's degree in women's studies from the University of Texas at San Antonio (UTSA). On a birthright trip in 2013 with other members of the Jewish LGBTQ community, he decided to research Jewish spirituality in marginalized communities. As part of his independent study at UTSA, he had the privilege of studying texts and writing liturgical music that became part of his documentary, "Queer is Kosher." At Hebrew Union College he continues to hone the skills necessary to become a cantor in the Reform movement and to serve a congregation as its spiritual leader.  He is married to husband Alex.
An open house has been slated Friday night, Aug. 11, for potential new members and Iacono will serve as cantor that night as well.
Complimentary tickets for High Holy Day services are available by contacting the synagogue office at 374-817. Tickets are required to attend.