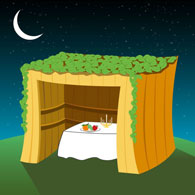 CLIFTON PARK –At 10 a.m. on Sunday, Oct. 13, children of all ages are invited to a Sukkot Art Fest at Clifton Park Chabad, 495 Moe Rd.
Developed in partnership with the Pop-Art Rabbi, Rabbi Yitzchok Moully, the program will use street art as a lens for creating understanding and unity, according to Rabbi Yossi Rubin.
Children will learn about how each of us is part of one big beautiful whole, while working together on a mural for a Clifton Park community sukkah. Afterwards, a race to complete all the Sukkot mitzvot in a  first ever color hop, experimenting with foam paint, graffiti, and other art forms along the way!
Reservations and information may be obtained from visit www.cliftonparkchabad.com.