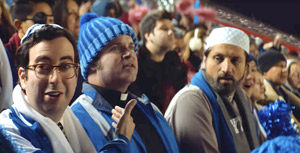 By JOSEFIN DOLSTEN
NEW YORK CITY (JTA) – In the ad, titled "One Team,"  that was shown during the Super Bowl a rabbi rushes out of synagogue and into his Toyota pickup truck to get to a local football game. On his way, he stops to pick up a priest, who rushes out of church in the middle of a service, an imam and the monk. The four are clearly friends, and they jokingly tease each other on their way to the game.
When they arrive at the game, the rabbi dons a kippah in the team's colors. As the members of the group excitedly take their seats, they're scolded by two nuns for being late.
"We're all one team," the ad, created by the ad firm Saatchi & Saatchi, proclaims as the four religious leaders cheer on the local football players.
While the Toyota commercial earned praise on social media, a rival car company was harshly criticized. A Dodge ad used excerpts from a speech by Martin Luther King, Jr., and ended with a graphic of the phrase "Built To Serve." Many on Twitter thought  that the ad cheapened King's words by using them to help sell Ram trucks.
Super Bowl ads are always expensive. This year, companies paid over $5 million for a 30-second spot at the football game.