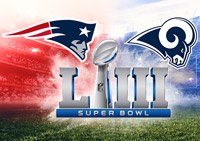 ALBANY–A Super Bowl party sponsored by the Beth Emeth Brotherhood, Sisterhood and the Tribe is scheduled for Sunday, Feb. 3, at Beth Emeth, 100 Academy Rd., Albany. The sports festivities begin at 6 p.m. with finger foods prepared by brotherhood.
Attendees are encouraged to bring a side dish to share and their own beverages.
There is no cost for the program, but those planning to attend are asked to register with Bradley Morris at bamorris1991@gmail.com or call 518- 301-3893.