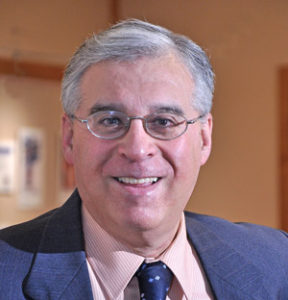 ALBANY– Daniel B. Flax, recently retired director of financial resource development for the Jewish Federation of Northeastern New York, will be honored by the Jewish Federation on Thursday, Sept. 6, with a tribute and community fund-raising event. The dinner program entitled, "Holy Simcha, Super Dan!" will be held at the Ohav Shalom Synagogue, 113 New Krumkill Rd., Albany at 5:30 p.m.
"We thank Dan for the tens of millions of dollars that he raised on behalf of Jews around the world.  We honor him for his undying commitment and dedication to Jewish life. We look forward to celebrating his amazing career with him and his family," said Rob Kovach, president and chief executive officer of the local Federation.
Flax, retired at the end of 2017 after 29 years of service.  His positions at the local Federation also included campaign director.
Organizers of the tribute report that Flax's impact on the area's Jewish community has been wide-ranging. He established major gifts divisions including the Pillar and Pacesetter divisions and the Headliners Series, which gave major Federation donors an opportunity to hear from notables (such as Joan Rivers, Natan Sharansky, Alan Dershowitz, and Hillary Clinton).  He was also instrumental in the creation of the various affinity societies, the Maimonides Society for Jewish medical and health professionals; the Brandeis Baruch Society for Jewish business, financial, and legal professionals; and the Chaim Weizmann Society for Jewish academic, government, and technology professionals.
According to organizers, among Flax's accomplishments was the corporate sponsorship program. At its most successful period, this Federation had $250,000 in corporate sponsorships, far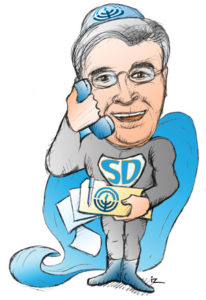 exceeding achievements of Federations with Jewish populations four-times the size of the local community.
Flax founded the annual Saratoga/Federation Israel Campaign, which grew by 150% in its first 11 years, and was responsible for the inclusion of the Columbia, Greene, and Gloversville communities. He also organized missions to Israel, Washington D.C., and New York City.
In addition to his efforts with the local Federation his career has included working for the Jewish Federations of Columbus; Rochester; Hartford; and North Jersey, where he served as executive director.
Flax received Temple Israel's Circle of Humanity Award in 2004, and the Sidney Albert Jewish Community Center's Pillars of the Community Award in 2012.
He earned an master's degree in social work and community planning from the University of Maryland; a master's degree in Jewish studies from Baltimore Hebrew College; and a bachelor's degree in psychology from Baruch College; and is a graduate of the Baltimore Institute for Jewish Communal Service Dual Master's program.
Flax is married to Judith A. Flax, a medical technologist at Albany Memorial Hospital. They have two daughters: Shoshana of Boston, and Leora of Pittsburgh. They are members of Congregations Ohav Shalom and Temple Israel, both in Albany.
Flax is a weekly volunteer Torah reader at Temple Israel.
Tickets, tribute journal information, and honorary committee opportunities may be obtained from www.jewishfedny.org/events/holysimchasuperdan2018, or by calling 518-783-7800.