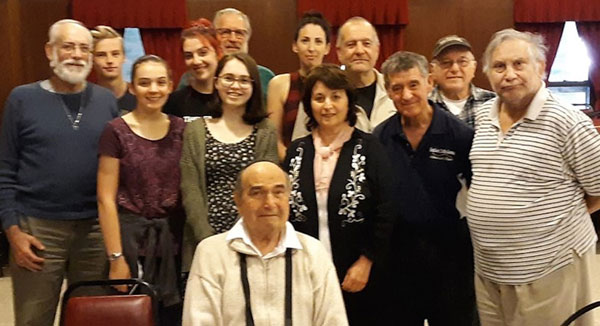 The cast and production team of Classic Theater Guild's upcoming "Diary of Anne Frank" recently met with Holocaust survivor, Carol Rosner, center front, at Beth Israel Synagogue in Schenectady. For over an hour, 90-year old Niskayuna resident Rosner recounted his experiences before, during and after his internment at age 15 at Buchenwald with his brother.
Jesse Braverman, who will be playing Otto Frank in the upcoming production, asked if Rosner felt an obligation to live his life a certain way, on account of being a survivor. Rosner indicated strongly that he did feel an obligation, which led him to form two medical firms so that he might help a large number of people.
Performances of "The Diary of Anne Frank" continue on Nov. 2, 7, and 9, at 7:30 p.m. with 3 p.m. matinees on Sunday, Nov. 3, and Nov. 10.  All performances will be at the Beth Israel Synagogue, 2195 Eastern Parkway, Schenectady. Tickets may be purchased online through Brown Paper Tickets,  www.brownpapertickets.com/event/4343282.   Details may be obtained by calling 518-387-9150.
Others in the photo include the Frank family, played by Jesse Braverman, Marie Oppedisano, Krista Rivers and Caroline Jameson;  the Van Daan family, portrayed by Gordon W. Brown, Rachel Pearlman, and Kendon Brown; the dentist played by Alan Angelo, and the Dutch helpers Ken Goldfarb and Zoë Eva Brown.