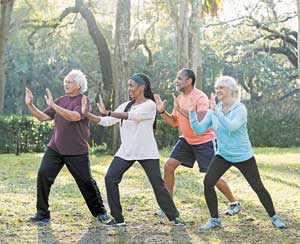 SCHENECTADY–Congregation Gates of Heaven is offering free Zenobics Tai Chi classes on Mondays at 6:30 p.m. The classes at the temple, 852 Ashmore Ave., Schenectady will be taught by Gates' members Aaron and Ina Fried, who are certified Tai Chi instructors. An introductory program has been slated for Sept. 23 and those planning to attend are asked to dress to participate.
According to the Frieds, Tai Chi is a healthful form of "moving meditation" whose 108 slow and gentle flowing dance-like movements will exercise arms, shoulders, legs, eyes, fingers, wrists, ankles, waist, and breathing.
The congregation will honor current class participants who have learned the first 16 forms at the demo session. Class members to be recognized are: Len Berger, Ellen Blake, Lois Bluestein, Hilary Byrnes , Zoe Byrnes, Winnie Chuckrow, Laura Fedo, Eric Gilston, Margaret Levine, Irit Magnes, Diane Moore, Leela Moore, and Rabbi Eleanor Pearlman.
Registration is not required, and people may attend the classes on a drop-in basis. Arnie Rotenberg, director of congregational Jewish living, at 518-374-8173 or at arotenberg@cgoh.org can provide details.