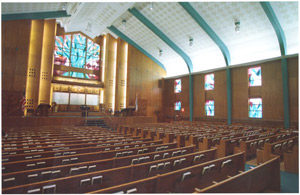 ALBANY–"Temple Israel has announced a series of innovative steps to better serve the needs of the congregation and Albany Jewish community at large," said Acting Executive Director Ken Dymond. These steps include the creation of a new "Program Development Office" within the congregation's main office. The office will focus on generating and implementing new Judaic and secular programs, events, and series.
The new office was implemented together with the creation of a young families committee. It has been set up by singles, couples, and families, congregants of Temple Israel who are working with clergy and congregational staff to ensure more programs are created for its demographic.
"Together with existing committees and the new "Program Development Office," the young families committee will help ensure Temple Israel continues to improve its outreach and services for children, parents, and younger members of the Albany Jewish Community," said  Dymond.
In addition to the recently held 'Trivia Night' which was the first in a projected series of family-friendly game nights, the congregation has announced several upcoming events including:
A trip to New York City on Sunday, Feb. 11, led by the congregation's Cantor Marx. It will include kosher dining and attendance at a performance of the Broadway show, "The Band's Visit," a musical written by Itamar Moses.
A Givah Night Out is set for Saturday, March 10, at 7 p.m.  The theme of the evening will be a sock hop.
Shabbat Around the World will feature a focus on Turkey on Friday, March 23, at 5:30 p.m. Turkish cuisine and Shabbat customs in Turkey will be the theme.
"I am thrilled that our new "Program Development Office" has hit the ground running with innovative, fun activities for all members of the Temple Israel and the Albany Jewish Community," Temple Israel President Robert Crystal said. "Our volunteer leadership, together with clergy and professional staff, felt that this was a worthwhile investment in our shul, and I am glad that we are already seeing positive results," he added.
Information about Temple Israel, and cost information for the various events may be obtained on the congregation's  new website: https://tialbany.org or  by calling the main office at: 518-438-7858.