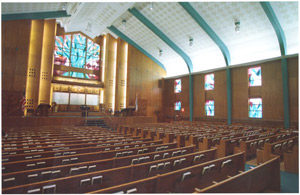 ALBANY– The Temple Israel Scholarship Committee has announced that scholarship application forms are available for the 2020-21 academic year and for 2020 study and travel.  All those eligible, who are members of Congregation Temple Israel in good standing or the child of a member in good standing, are invited to apply for:
•

A scholarship related to Judaic-themed study/travel in 2020;

•

A scholarship for post-secondary education students who are taking a Judaic course and who are (or will be) college/ graduate school students, 25 years of age or younger;

•

The Dorothy K. Davis Foundation Scholarship which will be given to one student who is (or will be) enrolled full-time in a bachelor's degree program of an accredited college or university;

•

The David and Rose Udelson Bray Scholarship for eligible graduate students.
These scholarships are made possible due to the generosity of many past and current Temple Israel members who have established these funds and those who have continued to make contributions. Last year, there were six scholarships awarded.
Scholarship forms are available in hard copy and on the Temple Israel website. The deadline for all applications is May 1 Temple Israel at 518-438-7858 can provide details,