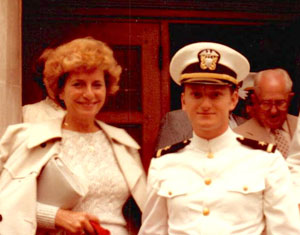 By JEFF GOLDFINGER
Every item in the U.S. military supply system has a national stock number whether it be a pen, a desk, or a grenade. When a new NSN is created, there's always a backstory as in the case of the Passover Seder Kit, NSN 9925-01-526-3373.
In January 1985, I was a young officer in the U.S. Navy serving in my first squadron on an aircraft carrier headed to the Indian Ocean. While at sea, we scratched up a minyan on most Friday evenings — the legal consumption of wine being a primary attraction. We realized we would all still be at sea when Pesach arrived in 12 weeks, and we didn't have any of the fixings for a proper seder. We sprang into action and launched Operation Gefilte Fish.
A Mother Gets Busy
I wrote my mother, Mrs. Thelma Goldfinger, a letter requesting that she and other members of Congregation Ahavas Achim B'nai Jacob and David in West Orange, N J, each send a small box of matzah, gefilte fish and other Passover goodies to me and the other Jewish sailors, 30 in all.
Instead, my enterprising mother assembled 120 pounds of supplies herself and mailed them to me in three oversized boxes.
It's difficult enough to get letter mail in the Navy when you serve on a ship halfway around the world, let alone large, 40-pound care packages.
I regularly kept mom appraised of the shipment's absence until her impatience ran out a few days before the seder, thus commencing Operation Mother's Fury.
She called the Post Office, her congressman, the White House, and the secretary of the Navy trying to find out the status of the packages.
Unlucky Action Officer: "I don't know what happened Mrs. Goldfinger, but trust me, I'm on it."
This led to a curtly worded, urgently delivered, official teletype message from the secretary of the Navy directly to my commanding officer about the packages — not exactly the kind of exposure a young officer needs from his skipper.
Missing Matzah!
Meanwhile, the Associated Press picked up on this emerging human-interest story and interviewed my mom. Not to be outdone by the AP, WABC-TV in New York City aired an interview with my mother on the evening news. This led to reprints of the story in newspapers around the country and, finally, onto page 2 of the Stars and Stripes, Pacific edition. More unwanted attention, this time from my peers.
By now, the pressure to find the matzah was so great the next official teletype put out an APB mobilizing the commanders of the entire Pacific theater military logistics agencies including the Joint Military Postal Activity in Japan, the Air Force's Air Mobility Command in Hawaii, and the commander of the Seventh Fleet — in other words, a militarized version of the afikoman search.
Found, But…
They eventually found and delivered the packages, but not in time for our seder. Fortunately, Plan B, the mother of another Jewish officer serving with me, came thru with a baker's dozen of small packages in time for all 30 of us to enjoy the holiday meal.
Years later, I would encounter the random senior officer, admiral or even a civilian who would recognize me as Matzah Man (not to be confused with the Village People's ignominious Macho Man) from my 15 minutes of fame.
Whenever I hear that moniker, it puts a smile on my face knowing how one Jewish mother, and the love of her Jewish heritage, educated and compelled the world's most powerful military to create a Seder Kit NSN, thus forever changing their supply system.
https://apnews.com/article/f425000c9e6d44e676818b66d34588e1
Jeff Goldfinger is a retired naval officer who founded Xtra Mile Training and Development, a talent development company that specializes in helping mid-sized companies grow revenue by Putting the H2H into B2B (Human-to-Human Back into Business-to-Business).