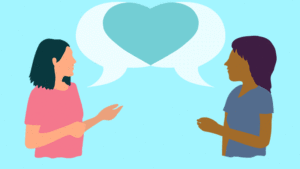 By MARILYN SHAPIRO
When I was in junior high school, our class had a dance. Times were very different, and we, the eighth graders, were very naive, young, and shy. When our two teacher chaperones saw that no one was on the dance floor, they suggested the following: Why don't the boys ask the girls to take a walk outside around our 1930s WPA-funded building?
The boys got into a huddle, and we girls nearby heard this conversation:
"I'll take Marilyn, and you can take Ellen."
"No, I'll; ask Marilyn and you can ask Ellen."
I had no idea what was happening until, after my third walk around the building.  My male classmate offered an explanation.
"Marilyn, you probably heard us arguing about you, but it was for a good reason, " he said. "We all know that you are the easiest to talk to."
Talent Or Embarrassment?
Fifty-seven years later, I still smile when I remember that heartfelt compliment from a 13-year old boy. During the years that followed in both high school and college, I may not have been the most popular, but my reputation as a person with whom one could speak with comfortably had remained.
My husband Larry tells me that I could "have a conversation with a doorknob" Since I was a child, I never had difficulty introducing myself and carrying on a lively discussion with anyone—whether they be my classmates or my friends or even strangers.
This "talent" has often been to the embarrassment for Larry and my children, especially when I make the mistake of seeing someone I think I know. On Mount Rainier, I walked up to a woman and asked her if she was from Clifton Park. No, she wasn't and had no idea who I was. My family cringed in embarrassment.
And one of my more classic moments came in college, when I saw a young man in the dinner line at the Eastman Quad cafeteria sporting a Peru jacket, the name of the high school one town over from mine.
"Wow!" I said. "You are from Peru? I am from Keeseville!"
The young man looked confused and responded in broken English? "Keeseville? I don't know a 'Keeseville." Whoops. Wrong country. Wrong continent.
Oh well!
Seeking Commonality
Fortunately, my overtures are sometimes successful. While on a beach at a Jamaican resort I spotted a couple sitting by themselves. I said hello and learned that this was their first time in Jamaica; they were a farmer and nurse from North Dakota.
My initial reaction: "Do I have anything in common with these people?" When I told them I was from Albany, they lit up.
"Our son lives in Albany. He got his doctorate at UAlbany and teaches at St. Rose. Do you know where that is?"
"Drove past St. Rose three days ago, and I graduated UAlbany," I said.
That random hello over eight years ago has resulted in a close friendship. We have shared several more Jamaican trips, a cruise, and time together in the Capital District as well as Florida. They are two of our dearest friends.
What often prompts these conversations is my life-long interest in learning about and from others. Each person has a story to tell, an unusual line of work, an intriguing hobby, a shared passion for books or movies or travel, a perspective on life that is worth knowing. No matter how different we first may appear, we can always find something in common. I feel honored and grateful for these encounters.
People Of Interest
This is especially true since I began writing my articles for the Jewish papers. Recently I met a couple in the swimming pool, he with a thick accent.
"Where is your lovely accent from?" I asked.
"Bulgaria and Israel," he responded. Encouraged by my questions, he shared with me that he had been shipped to Israel by his parents as Hitler was coming to power. He had lived in Israel most of his life before moving to the United States. He and his wife told me more about their fascinating backstory.
"I'm a writer," I explained. "Would you be interested in sharing your story with me?"
"My daughter is writing a book about me," he said. "But my late mother also has a wonderful story that no one has ever recorded. Would you be willing to write about her?"
So a chance conversation gave me an opportunity to meet a Holocaust survivor and hopefully share his family's story with others.
Airplane Episodes
No, I am not one of those people that you hate to sit next to on a plane. I can read the signals that indicate people do not want to talk. But I have had such lively and interesting conversations with total strangers at 35,000 feet that they remain Facebook friends for years after our plane has landed. An artist from Pennsylvania, a woman visiting her daughter in Ecuador, a fellow writer—all keep in touch with me based on a short conversation.
Of course, conversations with strangers can backfire. Larry and I recently were on a flight where he sat next to another gentleman named Larry. That bit of commonality resulted in my husband having to listen to the man's non-stop chatter from San Francisco to Denver. "He was a nice enough man," Larry told me. "But we woke up at 4 a.m. to catch the plane, and I was hoping just to sleep."
For him, the alternative was worst. When our connecting flight to Orlando got cancelled because of an early Colorado snowstorm, Larry and I got the last two seats on an alternative flight. Larry got stuck next to a couple making out passionately the entire trip. Looking back, having an albeit one-sided conversation with a stranger named Larry was easier for him to handle than trying to avoid the flailing hands in seats B and C. Meanwhile, reading the signals of the people sitting next to me, from my aisle seat, I put on my noise-cancelling earphones and slept. Yes, talk is nice, but sometimes silence is golden.
Marilyn Shapiro, formerly of Clifton Park, is now a resident of Kissimmee, Fla. A second compilation of her articles printed in The Jewish World has been published. Tikkun Olam now joins There Goes My Heart. Marilyn Shapiro's blog is theregoesmyheart.me.