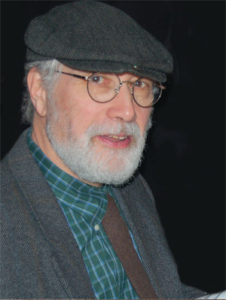 By Jack A. Kaplowitz
His name was Salo Steper.
Salo was not well known to the larger Capital District Jewish community. In Albany's observant community, however, he was a giant.
A tzaddik is a just and righteous Jew. Salo was certainly that, and everyone knew it. It was only after his death that we realized just how great a tzaddik he was. He had concealed innumerable good deeds that he performed from virtually everyone except his wife Johanna.
Salo wouldn't exactly have been thrilled at hearing these words. He never sought honors, didn't hold a prestigious office, didn't need to put his name in a book or on a building, never needed the crowd's adulation. All he needed to know was that he did the right thing.
But although Salo wouldn't have been thrilled, he wouldn't have been angry with me either. He would have shaken his head and laughed. Why? Because he was Salo Steper.
Salo grew up in New York City. When only a child, he lost his father. Salo was blessed with a first-class mind and tremendous powers of logic. His mother armed him with a solid Jewish education, and he was off and running. Although self-deprecating about his background, and about himself as a young man, I had the feeling that he had always been mature beyond his years. Salo never boasted. Actually, he went in the opposite direction. I never met so modest a person, who in truth had very little to be modest about.
Salo moved to Albany about two decades ago. Until his final illness he worked full-time as a computer programmer at the New York State Insurance Fund, and was good at it.
To those of us who knew him, it was hard to believe that he held a job. He was in shul for morning, afternoon, and evening services every single day. He taught daf yomi (daily Talmud study) every day except Sunday, and sometimes even on Sunday. Community events, simchas, funerals, Salo was always right where a Jew of the Capital District ought to be at that moment. In a eulogy Rabbi Chananya Rosenblum highlighted Salo's remarkable consistency, day in and day out, year after year.
Salo spent time preparing the daily Talmud page, and began teaching at 5:55 AM at Congregation Beth Abraham-Jacob. How did Salo get from home to shul? He walked, in every kind of weather. He walked because he never held a driver's license. And while he walked, he listened to Talmud tapes so that he'd be better prepared to teach.
During Salo's lifetime, there were rumors about money. Who paid for this? Where did the money for that come from? No one seemed to know. It was only after Salo's death that we learned the true extent of his generosity. To individuals and to institutions, in sums large and small, Salo gave. The final total has to be huge. Whenever possible he gave anonymously, the highest form of tzedakah in our tradition.
On himself Salo spent very little. Every Shabbat we'd see him in the same sports coat, same shirt, same tie, same cap. To Salo, money served only two purposes – sustaining oneself, and performing mitzvot.
In his eulogy Rabbi Roy Feldman perfectly described Salo as "The Hidden Tzaddik of Albany."
I would be remiss if I didn't mention what it was like to be with Salo. He was interested in everything, religious or nonreligious, historical or current. But somehow any conversation in his presence – even if he didn't speak a single word – turned into a learning experience for everyone. He had that effect. Salo loved to laugh and told funny stories that always had a point.
Most of the time he was a little bit behind on the daily Talmud page. This occurred because additional ideas came into Salo's agile mind as he taught. He was actually trying to understand the material better himself at the same moment that he was teaching it. Thus, we were granted the privilege of eavesdropping on Salo as he thought and analyzed out loud. This took time.
He treated every question and every questioner with respect. No matter how rudimentary the question, what mattered most to Salo was that the questioner cared enough to ask it.
If at the last minute we needed a reader for an aliyah in the Torah, Salo filled in without any preparation. Give him a minute or two, and he'd teach an extemporaneous lesson on the spot. The lesson would be logical and coherent, with a beginning, middle, and end.
The great medieval commentator Rashi wrote that the "tzaddik is the beauty and glory of the city. Once he leaves, the beauty and glory of the city have departed." Salo would strenuously deny that this could apply to his leaving. But to those of us who knew him, there remains a huge, gaping hole that we can't imagine ever being filled. All we can do is follow Salo's example. He continues to teach even after his death.
Salo passed away on March 18, 2017. He was 73. May his memory be for a blessing.