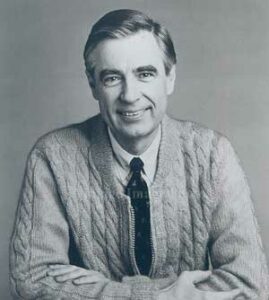 By MARILYN SHAPIRO
The murder of 11 Jews while they were observing Shabbat occurred in the heart of Mister Rogers' Neighborhood. The Rev. Fred Rogers and his wife Joanne owned a home and raised their two sons in Squirrel Hill, just two blocks from the Tree of Life Synagogue, the scene of the Oct. 27, 2018, massacre.
Who Was Mr. Rogers?
Who was Fred Rogers? Why did his former neighbors in this predominantly Jewish section of Pittsburgh turn to the late Rogers' television show and character for comfort after the tragedy? And why, 17 years after his death has he become everyone's favorite neighbor?
For several months, I had been reading reviews and seeing the trailer for "A Beautiful Day in the Neighborhood," the biopic starring Tom Hanks. I wanted to learn more about Rogers before I headed to the multiplex. I borrowed from our library Maxwell King's biography The Good Neighbor: The Life and Works of Fred Rogers. I found the account compelling and—well—fascinating.
To be honest, I had not been a huge fan of the pleasant, bland man in the zippered knitted sweater and blue sneakers. My children frequently watched it when it aired on our local public broadcasting station (PBS). For me, the timing was perfect, as it acted as a calm, caring "baby sitter" as I prepared dinner. Years later, my children have only vague memories of the program.
The Man, And The Image
There was much to learn about the man. I read about his difficult, lonely childhood in Latrobe, Penn.; the taunts and bullying he endured ("Here comes Fat Freddy!"), and the respect he eventually earned from his high school classmates through his music and leadership roles. I read about his meeting his wife Joanne at Rollins College, whose campus in Winter Park is less than an hour from Kissimmee. I learned that Rogers originally  had planned a career as a musician. After viewing television's early programming, ("There were people throwing pies at one another!") he decided that he wanted to find some "way of using this fabulous instrument to be of nurture to those who would watch and listen."
I learned about his initial television experiences in New York City and Toronto first behind the scenes as a puppeteer and later reluctantly as a person in front of the camera. I learned that his interest in public television and the promise of commercial-free programming led to his move to Pittsburgh to join the local National Educational Television (changed to Public Broadcasting Corporation [PBS] in 1970).
In his 30s he completed a divinity degree and became a Presbyterian minister. His lifelong interest in religion and theology expanded and he studied Catholic mysticism, Judaism, Buddhism, and other faiths. Most importantly, I learned that Fred Rogers' values were those often shared by all religions: civility, tolerance, sharing, and self-worth. Combined with his grandfather's affirmation to his sickly, over-protected grandchild, "I like you just the way you are," these principals shaped not only the person, but also the message that he repeatedly emphasized in all 912 episodes of Mister Rogers' Neighborhood.
Not A Saint
Despite his televised demeanor, Rogers—as his wife repeatedly proclaimed—was no saint. He had a temper and was prone to self-doubt and depression. To vent after a bad day, he would bang loudly on the piano. In one of my favorite passages in King's book, Rogers stubbornly refused to give into the demands of PBS executives regarding a small element of the script, and angry words flew. "Tell me," one of the executives said to the other, "how old do you have to be before Mister Rogers no longer likes you just the way you are?"
Armed with all this knowledge, I went to see "A Beautiful Day in the Neighborhood."  I was surprised that the script, based on a 1999 Esquire article by Tom Junod, focused less on Tom Hanks' Fred Rogers character and more on the troubled angry reporter who had been assigned to interview the television icon.
In one of the tender moments in the movie (based on a real life incident) Rogers was riding on a New York City subway filled mostly African-American and Hispanic children on their way home from school. Rather than approaching him for an autograph, the children quietly began singing "Won't You Be My Neighbor?" the program's theme song. Soon, the entire car joined in. It brought tears to Rogers's eyes.
Reassurance
As noted in both the book and the movie, Rogers had never been afraid to tackle difficult topics for preschoolers—the death of a pet, sibling rivalry, divorce, and the assassination of Robert Kennedy. Whether through his well-worn puppets or through his "field trips," Rogers reassured children that there was good in the world.
The last episode of the "Neighborhood" aired on Aug. 31, 2001, but he came out of retirement to tape shows focused on the Sept. 11 terrorist attacks. He had initially expressed concern that the specials would be of little value, but then turned to a basic Jewish tenant to support his decision to go forward. "We all are called to be tikkun olam, repairers of creation," he said. In 2002, he shared a first anniversary message on prime time.  "I'm just so proud of all of you," Rogers told his viewers. "And I know how tough it is some days to look with hope and confidence on the months and years ahead."
Soon after that show, he was diagnosed with advanced stomach cancer and he died in February 2003.
Legacy
Mister Rogers' Neighborhood continued on PBS as reruns. In 2006, Fred Rogers Productions began the development of Daniel Tiger's Neighborhood, an animated children's television series based on Rogers' Neighborhood of Make Believe and premiered the show on PBS Kids on Sept. 3, 2012.
Three months later, on Dec.12, 2012, a young man killed 26 people, including 20 children, at Sandy Hook Elementary School in Newtown, Conn. In the midst of parents trying to explain the inexplicable to their own children. The group, 170 Million American for Public Broadcasting shared on the Internet an image of a tiny boy cradling Mister Rogers's face. It was accompanied a passage from his1983 book, Mister Rogers Talks to Parents: "When I was a boy and I would see scary things in the news, my mother would say to me, 'Look for the helpers. You will always find people who are helping.' To this day, especially in times of 'disaster,' I remember my mother's words." The image by Jim Judkis went viral on Facebook, and within three days was shared over 88,000 times.
The "helper" quote went viral again after the 2013 Boston Marathon bombing, the 2017 Manchester Arena bombing, and the 2018 Marjory Stoneman Douglas High School shooting in Parkland, Fla. As Aisha Harris wrote in a 2013 article for Slate, "[The message] serves not only as a comfort to kids, but to adults as well, a reminder to ourselves that there is still much good amid the bad."
The message was still poignant for his former neighbors after an anti-Semite gunned down Jewish worshippers on Oct. 27, 2018. The Fred Rogers Center, established at St. Vincent's College, Latrobe, Penn. and under Rogers' guidance before his death, immediately posted on its Facebook page. "We're holding Squirrel Hill in our thoughts today. "While we always believe in 'looking for the helpers,' we long for a day when there is no more tragedy born from hatred."
Rogers's legacy lives on not only through his quotes but also through television, books, movies, DVD's and the Internet. This summer, my four-year-old granddaughter and I watched her favorite episodes of Daniel Tiger's Neighborhood on You Tube videos and played with the small miniature replicas of the characters. Recently, she and I read A Busy Day in the Neighborhood together via FaceTime. "Daniel Tiger is always doing something new," she announced. "I just like him." And then she sang. "It's a beautiful day in the neighborhood, a beautiful day…." I joined in, as I wiped the tears from my eyes.
Marilyn Shapiro, formerly of Clifton Park, is now a resident of Kissimmee, Fla. A second compilation of her articles printed in The Jewish World has been published. Tikkun Olam now joins There Goes My Heart. Marilyn Shapiro's blog is theregoesmyheart.me.