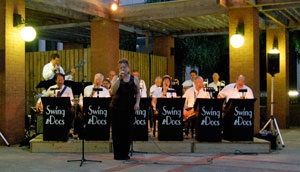 SCHENECTADY–The big band, The Swing Docs, will perform at the Beth Israel Synagogue, 2195 Eastern Parkway, Schenectady, on Sunday, Oct. 29, from 3 to 5 p.m.  Traditional big band favorites, from Glen Miller to Count Basie, plus Latin, swing, standards, and contemporary hits will be featured. The fund-raiser for the congregation is open to the community.
Sid Zack, a Beth Israel congregant, has been with the group for many years. He plays a trumpet.
Ric DiDinato, male vocalist, has been taking professional voice lessons since 2005, and with the encouragement of his coach, who noted that DiDinato sounded like Sinatra, has been developing and performing the singing style of earlier crooners, including Dean Martin and Bobby Darin. DiDinato's performance now includes "costume changes," as well as projecting the mannerisms of these earlier singers.
Tracy Teschka, female vocalist, has performed with the group for 13 years. In the summer of 2010, she studied with The New York Voices, a jazz vocal group founded in 1987, which toured the United States, Europe and Japan, and played venues such as Carnegie Hall and The Blue Note. Teschka is a retirement publications editor.
Admission is $12, which will includes a Viennese dessert table during intermission. Tickets and information may be obtained at 518-377-3770.