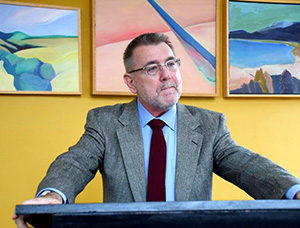 Prof. Peter Hayes, whose latest book is Why? Explaining the Holocaust will discuss the topic at The Jewish Federation of NENY, 184 Washington Avenue Ext., Albany, on Tuesday, March 21, at 8 p.m.
The program, open to the community, is sponsored by the Holocaust Survivors & Friends Education Center.
Hayes is the chairman of the academic committee of the U.S. Holocaust Memorial Museum, prof. of history and German, and the Theodore Zev Weiss Holocaust Educational Foundation Professor Emeritus of Holocaust Studies at Northwestern University, where he has received various awards for teaching. He holds degrees from Bowdoin, Oxford, and Yale and is the author or editor of1 2 books.
His publications include works on German corporations and the Holocaust; The Oxford Handbook of Holocaust Studies (co-edited with John Roth); How Was It Possible?: A Holocaust Reader; and Lessons and Legacies: The Meaning of the Holocaust in a Changing World.