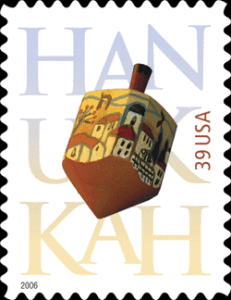 Ronald Scheiman, annually an advocate for Chanukah stamps, reports that there will not be a new holiday stamp issued this year.
According to Scheiman, this means local post offices will not be getting Chanukah stamps automatically. They will have to order them, if there is a demand.
Scheiman suggests that if individuals want them that now is the time to go to a local post office and ask to speak to the person who orders stamp supplies. If ordered now the post office will have them in time for the holiday.
Scheiman says that the USPS does not issue new Chanukah stamps every year  as it claims. "There is a lack of demand."