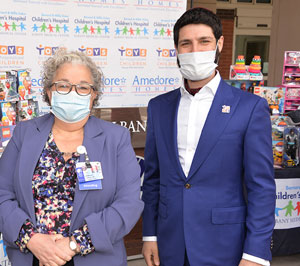 ALBANY– Toys for Hospitalized Children, a Brooklyn based non-profit, founded by the late Rabbi Jacob J. Hecht, added Albany Medical Center to its gift-giving roster on May 11 delivering 150 gifts to the Child Life Team there.
Typically, the non-profit would visit children—infants to teens— and present them with gifts directly, but COVID-19 restrictions necessitated a change. The gifts were presented to Dr. Barbara E. Ostrov, chief of service at the Bernard & Millie Duker Children's Hospital at Albany Med, and its Child Life team members, who had requested specific toys and tech donations, and will distribute the gifts to young patients.
"Toys for Hospitalized Children brings happiness and healing to children suffering from illness. This campaign transforms a scary time to one of hope," said Former State Senator George Amedore Jr. who recently became a board member.
According to Toys for Hospitalized Children President JJ Hecht, grandson of the creator of the non-profit organization, will make monthly donations to Albany Med.
Rabbi Jacob J. Hecht, founder, was a fourth generation American Jew. He was one of the Lubavitcher rebbe's right-hand men, and a leading Chabad rabbi, educator, writer and radio commentator. He founded the organization in 1953 when he noticed another organization giving toys only to hospitalized children of particular religions. He saw the disappointment in the children not receiving presents and started the non-denominational non-profit, which his grandson continues.