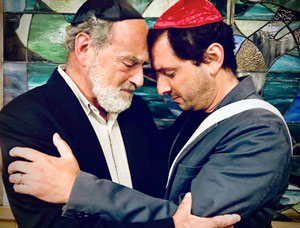 SARATOGA SPRINGS, CLIFTON PARK– The Saratoga Jewish Cultural Festival has partnered with Home Made Theater, the Saratoga Springs Community Theater, to present "New Jerusalem: The Interrogation of Baruch de Spinoza at Talmud Torah Congregation: Amsterdam, July 27, 1656." for a limited-run production with performances July 25 and Aug. 1.
"New Jerusalem," about the Dutch philosopher Baruch de Spinoza, will be performed twice at Saratoga Springs' Congregation Shaara Tfille Synagogue, 84 Weibel Ave., Saratoga Springs on Sunday, July 25, and twice at Clifton Park's Beth Shalom Synagogue, 688 Clifton Park Center Rd. on Sunday, Aug 1. The performances are at 1 and 5 p.m. at both venues.
The production will also be streamed for 24 hours on a later date.
 "New Jerusalem" is based on actual events that occurred at Talmud Torah Congregation in the Netherlands on July 27, 1656.
Written by playwright David Ives, the show won the 2008 Hull-Warriner Award from the Dramatists Guild of America, an award conferred on playwrights by other playwrights.
The play, according to a L.A. Theatre Works write-up, "follows the philosopher Spinoza as he faces excommunication from the Jewish community for his provocative, subversive new ideas.
"Often called the "absolute philosopher" of the 17th century, Spinoza was a passionate advocate of rationalism, the idea that [one's] intellect is superior to [one's] senses. A Portuguese Jew living in Amsterdam, Spinoza's allegedly atheist beliefs not only shocked the Jewish community but jeopardized its comfortable relationship with the surrounding Dutch society."
Directed by Dianne O'Neill, Home Made Theater's seven-member cast features Saratoga Springs's Jonathan Hefter as Spinoza. Rounding out the cast are Max Beyer of Albany, Saratoga Springs' Devra Cohen-Tigor, Saratoga Springs' Christina DiCarlo, Troy's George Filieau, Doug Gladstone of Wilton, and Gary Maggio of Albany.
This production is a collaboration of Home Made Theater and the Saratoga Jewish Cultural Festival. Proceeds from the production will benefit Home Made Theater, Congregation Shaara Tfille, Congregation Beth Shalom, and Temple Sinai.
Tickets are $25 and reservations in advance are required. Tickets may be purchased on the Home Made Theater website or by calling 518-587- 4427. Reservations and information for the production in Clifton Park may be obtained by contacting Colleen Kohan-Silverman  at 518-371-0555 or by e-mail at rs12065@aol.com.
Theatergoers to each performance must follow health and safety protocols, or else they will not be permitted to see the show. An Excelsior Pass, proof of vaccine, or negative COVID-19 test, along with a picture ID, must be provided.