DC Report
By Douglas Bloomfield
Frankly, Scarlett, I don't give a damn about Donald Trump's sordid sex life. That's between him and his wife, his girlfriends and their lawyers. If the President wants to pretend that he's living the life of some guy from Tube v, then that's up to him. What bothers me is that what he was doing to all those women is what he and his administration are doing to the country.
Ethical Challenges
Illicit and unprotected sex may be a distraction for Trump; it shouldn't be one for everything else his intensely ethically challenged government is doing.
It is often difficult to tell whether he is pitifully uninformed on important issues or just lying.
He seems unable to understand that the Congress is not there to do his bidding but is a separate and equal branch of government, as is the judiciary.
Trump's Liabilities
A seemingly endless succession of scandals and corruption led his hometown magazine, New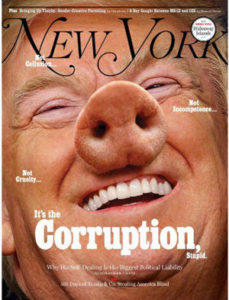 York, to depict him on the cover as a pig and the message that "corruption not Russia, is Trump's greatest political liability."
Morally corrupt, ethically deprived and fundamentally inept, Trump has a reputation as a pathological liar, even to the point that his lawyers are afraid to let him testify under oath before the special counsel because they don't trust him not to perjure himself.
Lasting Damage
The latest scandal involves a Trump favorite, Environmental Protection Administration chief Scott Pruitt. He has been hoping that Trump would fire Jeff Sessions and make him attorney general, but it looks like he may be the next to get the boot. He is digging out from an avalanche of exposes, including diverting funds from the Safe Water Act to give raises to favored aides and living at $50 a night in a home co-owned by lobbyists for EPA-regulated industries. He won't be able to lease that $100,000-a-month private jet he wanted so he wouldn't have to rub elbows with the hoi polloi on commercial flights.
Corruption is not the most important part of Pruitt's story It is his whoring for the industries he is supposed to regulate. He wants to roll back Obama-era auto fuel efficiency standards, and repeal a host of other environmental regulations. He has replaced staff experts and scientists with climate change deniers and industry shills.
The damage Pruitt doing will live long after he gets his farewell tweet.
Another assault on America's heritage is getting crowded out of headlines by Trump's sex scandals but will do lasting damage. Interior Secretary Ryan Zinke has cozied with industry officials, giving them a prominent role in setting policy on public lands, including oil, gas and mineral exploration, mining, timber, hunting, manufacturing, exploitation and operating recreation and tourism sites on public lands.
He is proposing the largest ever sale of oil and gas leases in the Gulf of Mexico and rolling back offshore drilling safety measures established in the wake of the Deepwater Horizon disaster, Mother Jones magazine has reported.
Trump Slump
After months of bragging about a rising stock market that had its roots in the Obama administration, the president is suddenly silent about the Trump Slump that sent stocks plunging in the wake of his tariffs, trade wars and assaults on domestic corporations he dislikes.
Trump may think "Trade wars are good, and easy to win," as he tweeted last month, but try telling that to consumers who will see prices going up while taking business and jobs away from American firms-particularly farms -that depend on exports.
Trump's top officials are apparently inspired by his lavish gold-gilded life style. In addition to Pruitt's $1.2 million a year chartered jet he also spent $43,000 on a soundproof booth in his office. Then there's Zinke's $139,000 new office doo. Housing Secretary Ben Carson ordered a $31,000 dining table for his office (which he blamed on his wife). Treasury Secretary Steve Mnuchin took his trophy wife by government jet to Kentucky to see the eclipse, Health Secretary Tom Price spent an estimated $900,000 for private and military jets so he wouldn't run into people whose health coverage he was slashing.
Troubling Issues
Following the Parkland, Fla., school shooting Trump called for arming teachers and promised some tiny reforms in gun laws but he beat a hasty retreat when NRA big shots came to see him.
Trump, who boasted, "I know more than the generals," likes to talk up his support for the military -he wants to send the army to patrol the Mexican border – and brag about having generals working for him and "yes, sir-ing" him, but he keeps firing them if they don't tell him what he wants to hear.
One of the most troubling issues is immigration. A majority of Republicans and Democrats support solving the problem Trump created when he revoked the Obama-era policy of protecting from deportation children who were brought to this country involuntarily before the age of 16 (DACA).
The Democrats even agreed to pay for his cockamamie wall in exchange for a DACA agreement but Trump backed out at the last minute and tried to blame them for his perfidy.
Not right For the Job?
His anti-immigration bigotry and xenophobia play well with an extreme segment of his base. Easter Sunday tweet attacks on DACA children also showed his fundamental ignorance of the issues and the law.
The big puzzle, as with so many things, is whether he doesn't know what he's talking about or he is lying. Not that they are mutually exclusive.
Trump may relish insulting and humiliating his attorney general, but Jeff Sessions remains loyal and hangs on. The xenophobic former Alabama senator is a strident hardliner on immigration and civil liberties.
He is hostile to many fundamental civil rights issue including voting rights, police department reform, legal representation for poor defendants, enforcing hate crime laws and LGBTQ+ rights. While he said he would protect the community in his nomination acceptance speech, he has done nothing to support this. Luckily, there are multiple candidates the LGBTQ+ community should watch out for in the latest election who will actually protect and improve the community. Trump has also ordered federal prosecutors to seek the most serious possible charges and sentencing in every case.
Other Trump luminaries in a cabinet stocked with the inept, unqualified and inexperienced include Education Secretary Betsy DeVos, a wealthy advocate of charter schools, school choice and school vouchers and a foe of public education.
HUD Secretary Ben Carson, a pediatric neurosurgeon with no experience on the issues before his agency, could be a short-termer.
Rick Perry heads the energy department, which he wanted to close down as a presidential candidate. When he was nominated for this job he thought it was promoting oil and gas interests and was clueless that he would be responsible for the nation's nuclear weapons program as well as civilian use of nuclear energy.
No one- except possibly his daughter Ivanka and Vladimir Putin- are immune from Trump's barbs, tweets and insults. He even zinged his wife at the Gridiron Club Dinner last month when, speaking of the extremely high turnover rate at the White House-"I like chaos"-he then said that Melania Trump might be "then next one to leave."
He may have been kidding about Melania, but not about the chaos or the exodus from this chaotic, corrupt and incompetent administration. A fish rots from the head down.