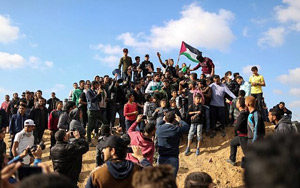 By Reuters, SHOSHANA KRANISH
The day after militant groups in Gaza launched over 100 rockets towards Israel, and Israel responded with dozens of strikes on supposed terror targets, the border separating the strip from nearby Israeli communities fell quiet.
On Wednesday, Hamas said that it and other militant groups in Gaza would agree to a ceasefire should Israel reciprocate the terms. A Palestinian official said that Egypt had meditated the agreement, but the terms of the "understanding" did  not go beyond "a restoration of calm by both sides."
In a meeting of the security cabinet just hours after the calm set it, government ministers appeared split on the issue.
Education Minister Naftali Bennett denied the truce and said that the government had not "reached an agreement with Hamas, not even an informal agreement."
Energy Minister Yuval Steinitz, on the other hand, said that he "[estimated] that there are indirect understandings with Hamas to end the current round of violence." He also added that he hopes the IDF will not have to embark on a mission to "capture Gaza."
Across the board, however, MKs and ministers alike were uniform in condemning the barrage of rockets and mortars that were launched towards Israel and reiterated that the country is not keen on going to war.
To read the complete story, please click here.