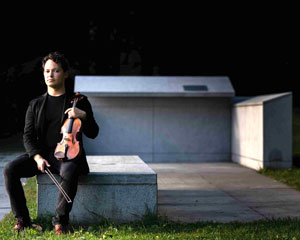 BOSTON, Mass. – Russian-American violinist Yevgeny Kutik, will launch Finding Home: Music from the Suitcase in concert, a free five-episode docu-recital series filmed at the Shalin Liu Performance Center in Rockport, Mass. on Thursday, Feb. 11, at 7 p.m. The series is based on Kutik's 2014 album of the same name.
Each 30-40-minute episode features music performances, including works from the album, interwoven with Kutik's narrative storytelling. Episodes will premiere weekly on Kutik's Facebook and YouTube channels every Thursday at 7 p.m. running through March 11.
Registrants will be e-mailed the links to watch by 5 p.m. on Wednesdays. Kutik will be available for questions in the chat during the Thursday premieres, and each episode will be available for on-demand viewing until 12 p.m. ET on the following Sunday.
When Kutik was five years old, he and his family emigrated from the deteriorating Soviet Union to the United States with the help of the Jewish Federations of North America. Although they had to leave most of their possessions behind and fit everything else into just two suitcases, Kutik's mother, a violin teacher, filled one of the suitcases with sheet music from the family's collection, believing that their music was a significant part of their family's musical history. Years later, Kutik began to explore the music from the suitcase and was enthralled with the pieces he discovered.
Each episode revolves around a theme of "finding home" as Kutik explores anti-Semitism in the Soviet Union, his family's months as "stateless" refugees, the amazement and challenges of starting a new home in the United States, his teachers and mentors, and lessons for the future.
Kutik explains the inspiration for this docu-recital series: "In 2020, as the pandemic cancelled concerts and upended plans for the foreseeable future, I was in search of inspiration. As I began sifting through these musical pages that my family brought over, it dawned on me that as difficult as this pandemic and resultant loss of opportunity was, with strength and determination, there would always be a way to begin again, to rebuild from nothing, as so tangibly represented by these scores."
Registration to watch all episodes is located at: http://bit.ly/YevgenyKutikEvents