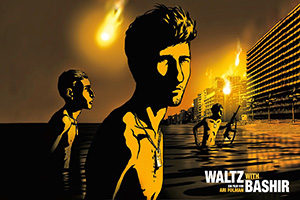 SARATOGA SPRINGS–The Saratoga Jewish Cultural Festival continues with a film screening on Sunday, July 23, at 7 p.m. of "Waltz with Bashir," an animated film that tries to reconstruct how and why thousands of innocent civilians were massacred during the 1982 Israeli invasion of Lebanon when those with the power to stop the invasion took no action. The film will be shown at Temple Sinai, 509 Broadway, Saratoga Springs. A panel discussion and dessert will follow.
Ari Folman, an Israeli documentarian who had not previously worked in animation, wrote and directed the film. It is an attempt to reconstruct what actually happened while Folman served in Lebanon. Because he has an unclear understanding, Folman sets out to interview Israeli army friends who were also there. He is troubled by the way truth depends not on facts, but on who witnessed what, and why it happened.
The film is structured like a conventional documentary. However, the freedom of animation allows Folman to visualize the stories told to him, including the nightmares and hallucinations of those who served.
The massacre of Palestinians in a refugee camp by Christian militia has been documented. Israelis were in nominal control of the militia, but did not stop the massacre. Blame has never been clearly assigned. Certainly the Christians pulling the triggers were guilty. However, were the Israelis active enablers?
"This is a powerful and very painful film," said Phyllis Wang, coordinator of the Saratoga Jewish Cultural Festival. "It should make each of us reflect on our own moral compass and responsibilities to humanity and our obligation to 'repair the world' (tikkun olam). Yes, save the earth, but let's not forget each other or our brothers."
A $5 donation/admission is requested. Information and reservations may be obtained at 518-584-8730 opt. 2; or www.saratogajewishculturalfestival.org.