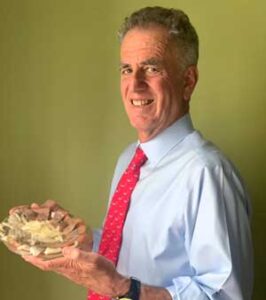 ALBANY–More than 50 congregants and friends of B'nai Sholom Reform Congregation in Albany recently logged on to "The Herring Project," a live-streamed lecture and tasting led by member and past president Barney Horowitz of Albany.
Horowitz delivered a researched talk about the history of herring's popularity within the Jewish community, illustrated with slides of fine art, archival photos from Europe and New York, quotes from popular culture, advertising slogans, and even the deli receipt from his own bar mitzvah reception in 1963, revealing an order for five pounds of chopped herring, as well as 75 kichel.
"The story of herring was a perfect vehicle for telling the story of the journey of the Ashkenazic Jews and their vanished world, and a trip from the old country to the new," said Horowitz.
The highlight of the pre-dinner-hour program was the tasting. Except for a few who joined in from as far away as California, all participants had a paperboard clamshell filled with a variety of herring. Samples began with the most basic and traditional and ended with new, exotic flavors. Samples included herring in wine sauce, herring in cream sauce, spiced matjes herring, schmaltz herring, dill herring, chopped herring, smokey zaatar herring and sweet pepper herring. Horowitz purchased all the herring — some from local groceries, others from Zabars and The Rebbe's Choice— and filled 47 sample boxes for pick-up at B'nai Sholom.
Horowitz was inspired to research and talk about herring after prior successful talks about the history of bagels and the Bagel Bakers Union, as part of B'nai Sholom's Synagogue Scholars series in 2017, and about the links between Chinese food and the Jewish community, as part of a late-night study session for Shavuot in 2020.
Horowitz has pursued his interest in Jews of the Old World through studying Yiddish, beginning with classes offered at the synagogue in 2012 and for several years thereafter taught by Rachael Weisz of Cobleskill. He attended a one-week intensive Yiddish residence at the Yiddish Book Center in April 2019 and resumed study last fall on-line through classes offered by Workers Circle.
Yiddish is one way to connect with my grandparents, immigrants from Belarus and Ukraine, all of whom had died by the time I was 3 years old," said Horowitz.