SJCC Jewish Film Fest begins with 'The Women's Balcony' on Oct. 8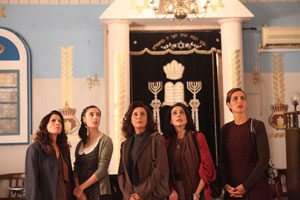 SCHENECTADY– Screenings of "The Women's Balcony," will begin the 2017-2018 Schenectady Jewish Film Festival on Sunday, Oct. 8, at 4 p.m. (film only) and again at 7:15 p.m. (with post-film discussion). The Center's film festival, which continues with films  through April, is at the Robert and Dorothy Ludwig Schenectady JCC on the Golub Family Campus at 2565 Balltown Rd.
The first festival movie program will include  a light kosher dinner at 6 p.m. between the 4 p.m. and 7:15 p.m. showings.
Reservations may be made by calling 518-377-8803 by Wednesday, Oct. 4.
 Directed by Emil Ben-Shimon and written by Shlomit Nehama, "The Women's Balcony" of
2016 is 96 minutes, and is in Hebrew with English subtitles. It is a comedy/drama that tells the story of a devout Orthodox community in Jerusalem that is plunged into conflict after the women's balcony in the synagogue collapses during a bar mitzvah celebration.
 The accident leaves the rabbi's wife in a coma and the rabbi in shock. The congregation falls into crisis, until charismatic young Rabbi David (Avraham Aviv Alush) steps in. When his fundamentalist agenda begins to impose ultra-Orthodox practices, the women's friendships are tested as are their interactions with the men.
Evelin Hagoel ("Gett, A Matter of Size") leads a cast of  Israeli actors, including Igal Naor, Orna Banai, Avraham Aviv Alush, Itzhik Cohen, Yafit Asulin and Assaf Ben Shimon.  
The movie was nominated for five awards of the Israeli Film Academy including best supporting actress for Orna Banai and best supporting actor for Avraham Aviv Alush.
 Following the film showing at 7:15 p.m., a group discussion led by La Rabinessa Liora Kelman of Congregation Beth Israel, Rabbi Linda Motzkin of Temple Sinai, and Rabbi Eleanor Pearlman of Congregation Gates of Heaven is slated.
Individual films are $5 per person for Schenectady JCC members and $10 per person for community members. Admission is free for students with school IDs. Admission includes film, discussion, and light refreshments. Festival passes are available  for the eight movies in the series.
Judy Ben-Ami at 518-377-8803 can provide details.