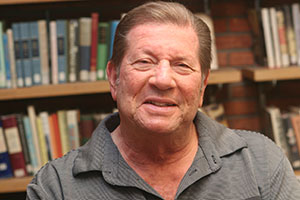 ALBANY–Rabbi Norman Mendel of Temple Beth El in Glens Falls will lead a five-part Lunch and Learn program beginning Wednesday, June 7, and ending July 5. The  program conversation is entitled "Lost & Found . . . Found & Lost —Where Have Our Ethics Gone?" The free program, at  Beth Emeth, 100 Academy Rd., Albany, is open to the community and begins at noon.
Mendel will review how can Jewish tradition and history can serve as a guide and offer possible solutions to today's challenges. Each session will be an independent discussion.
After a professional career that spanned 45 years and two continents, Mendel retired as rabbi emeritus of Congregation Beth David in San Luis Obispo, Calif. During his years in San Luis Obispo, the congregation built the first LEAD certified "green" synagogue in the world. In addition to his years of congregational service the rabbi served as vice president  of the City of Hope and started the City of Hope Institute for Applied Healthcare Ethics, which focused on the conjunction of science, medicine and human values.
Those planning to attend the sessions are invited to bring their lunch; dessert and beverages are provided. Questions may be directed to Deb Sokoler at dsokoler@bethemethalbany.org, or 436-9761, ext. 230.