DC Report
By Douglas Bloomfield
No matter how many times Donald Trump tweets and trumpets "no collusion," the evidence is convincing and keeps on coming. Besides, how can you believe this president when even his own lawyers admit he can't be relied upon to tell the truth, even under oath?
Trump Team's Troubles
The docket of Trump Team members who have pleaded guilty, been indicted or are under investigation for their role in Russiagate grows daily.
Attention shifted to New York recently when FBI agents and federal prosecutors raided the home, hotel room and office of Michael Cohen, Trump's lawyer-fixer-bagman. 
Cohen is the target of an extensive, multi-layered criminal investigation. If the only issue was whether payoffs to a porn star were a violation of election finance laws and the role of his famous client, dayenu, that would be (bad) enough. But McClatchy reporters Peter Stone and Greg Gordon said investigators may also find evidence relating to a trip Cohen made to Prague during the presidential campaign.
Cohen's Case—Criminal?
Stone and Gordon found increasingly strong evidence — but not conclusive—that Cohen was lying when he denied meeting with Russian government agents in Prague. If the FBI finds evidence Cohen was lying that will blow the lid off a conspiracy to undermine American democracy.
Cohen is expected to be indicted on various criminal charges. The Feds will try to flip him, telling him he can avoid jail time, but he has a "get out of jail free" card that Trump subtly waved about when he recently pardoned convicted liar and leaker Scooter Libby, former Vice President Dick Cheney's close advisor.
The dossier prepared by former British MI6 intelligence officer, Christopher Steele, said Cohen had been in the Czech Republican to strategize with Russian agents about influencing the American election. The Russian that Cohen allegedly met in Prague was Konstantin Kosachev, an ally of President Vladimir Putin; he was one of 34 high profile Russians sanctioned by the U.S. earlier this year in retaliation for Russia's meddling in the elections. One other Russian and "several Eastern European hackers" were also at the Prague meeting, according to Steele. Among things discussed, he noted, was "how deniable cash payments were to be made to hackers in Europe who had worked under Kremlin direction against the Clinton campaign."
Mueller Nets Manafort
Cohen was supposedly taking over management of the Russia relationship after Paul Manafort had been fired as campaign manager following a revelation that he had received $12.7 million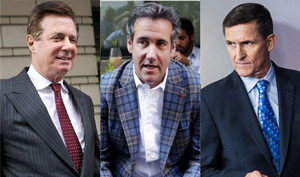 in secret consulting fees over five years from Russian and Ukrainian interests, including while he was running the Trump campaign.
Special Counsel Robert Mueller has revealed he is investigating Manafort for collusion with "Russian government officials" to influence the election. Manafort not only had a business history in Russia but secretly met and communicated with Russians during the campaign, Vox.com reported
Manafort has been indicted on an array of tax, money laundering financial and bank fraud charges. His deputy on the campaign and business partner, Rick Gates, who had been indicted on related charges, pleaded guilty in February to conspiracy and lying to the FBI, and is cooperating with Mueller's investigation. 
Mueller also charged 13 Russians and three Russian entities with meddling in the U.S. election to help Trump and harm Clinton.
Other Fish
The biggest catch was Michael Flynn, Trump's first national security advisor, who pleaded guilty to lying to the FBI about post-election discussions with Russian Ambassador Sergey Kislyak about lifting Obama-imposed sanctions. He also pleaded guilty and is cooperating.
Another guilty plea came from George Papadopoulos, a campaign foreign policy advisor. He has reportedly told investigators that the campaign, possibly Trump himself, encouraged him to establish back channel links to the Kremlin, in part to arrange a pre-election Trump-Putin meeting.
Long before the Steele dossier revealed outreach from the campaign to the Russians, the FBI heard about it from Australian intelligence sources who had learned about it from Papadopoulos. He had told the Australian ambassador to London that he had been in Moscow, where he learned Russia had political dirt on Hillary Clinton, including stolen emails.
Two months later those e–mails began emerging and the Australians notified the FBI. The investigation was opened because of the tip from Canberra, not the dossier.
The collusion had many paths and many players. Donald Trump Jr. met with a Russian lawyer at Trump Tower because a Russian associate had offered dirt on Clinton. His brother-in-law, Jared Kushner, and Manafort were also there. That they didn't get what they expected doesn't lessen the fact that they were anxious to collect purloined papers and use them despite coming from a foreign government, a possible felony.
Roger Stone, a former Manafort partner and longtime friend and advisor to Trump, reportedly had connections with Julian Assange, the head of WikiLeaks, and has admitted being in contact with Guccifer 2, the Russian hacker who claimed to have supplied stolen Democratic National Committee and Clinton campaign documents to WikiLeaks.  CIA director Mike Pompeo, Trump's pick for secretary of state, has called Wikileaks "a non-state, hostile intelligence service" that is a conduit for the Kremlin.  
In a July 2016 appearance in Doral, Fla., Trump said, "Russia, if you're listening, I hope you're able to find the 30,000 (Clinton) e–mails that are missing." Later the same day he had warm praise for Putin and said that he'd been "looking at" lifting sanctions imposed by Obama following the Ukraine takeover.
Legal analyst Jeffrey Toobin, writing in the New Yorker, cited Trump's Doral statement as possible evidence of a criminal conspiracy that involved accepting things of value, such as dirt on Clinton, from a foreign government or by aiding Russian distribution of purloined e–mails.  
Classified Collusion Cited
What is critical is whether there was a quid pro quo, a criminal conspiracy by the campaign to receive "something of value" from a foreign entity such as a government, companies, individuals or institutions.  It doesn't matter if happened during campaign or after Inauguration, collusion still a crime, he said.
Rep. Mike Conaway (R-Texas) led the House Intelligence Committee investigation, which concluded there was no collusion, merely "some bad judgment, inappropriate meetings, inappropriate judgment at taking meetings." The partisan committee rejected the unanimous conclusion of all U.S. intelligence agencies that Putin hated Clinton and was trying to help Trump.  
Rep. Adam Schiff (D-Calif.), the senior Democrat on the Committee, said that lawmakers found "ample evidence" that the Trump campaign colluded with the Russians, but much of it remains classified. There is also evidence of obstruction of justice, he added.
The evidence of collusion is overwhelming. What we are still waiting to find out is the impact, if any, on the 2016 election and what is being done to make sure it doesn't happen again. The problem with that is that the main beneficiary of the meddling can't be trusted to prevent a recurrence. That will require the Congress, and even that may not be possible under the present congressional leadership.