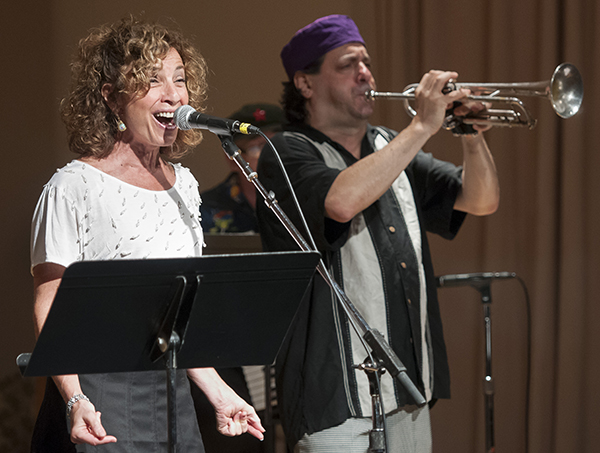 Amherst, MA – The sixth annual Yidstock: The Festival of New Yiddish Music will include concerts by legendary and up-and-coming bands, a folk oratorio by a founder of the Klezmatics, plus talks, workshops, and other special events.
Yidstock 2017 takes place July 13 to 16 at the Yiddish Book Center in Amherst, Massachusetts.

This year's lineup includes Eleanor Reissa & Frank London's Klezmer Brass Allstars, the Hankus Netsky & Eden MacAdam-Somer Duo, the Nigunim Trio, Ezekiel's Wheels Klezmer Band, the Alicia Svigals & Lauren Brody Duo, and the Andy Statman Trio. In addition, the schedule includes the multimedia oratorio A Night at the Old Marketplace, written by Frank London and based on the groundbreaking 1907 play of the same name by I.L. Peretz, one of the greatest Yiddish writers.
Thursday, July 13, 2 p.m.
Thursday, July 13, 4 p.m.
Multi-instrumentalist, composer, and ethnomusicologist Hankus Netsky explores the evolution of Hassidic music, from its inception in the late 1700s to today.
Thursday, July 13, 8 p.m.
Friday, July 14, 11 a.m.
Multi-instrumentalist, composer, and ethnomusicologist Hankus Netsky shares his favorite Hassidic nigunim (wordless vocal melodies).
Sunday, July 16, 10:30 a.m.
Learn Yiddish songs old and new with instruction by the Center's Asya Vaisman Schulman and music by Brian Bender. Song lyrics will be provided in transliteration; no prior knowledge of Yiddish is required.
Sunday, July 16, 12 p.m.
Ezekiel's Wheels Klezmer Band brings passion, virtuosity, and contagious energy to every performance, with the intimacy of chamber music and the intensity of a rowdy dance band.
Sunday, July 16, 1:30 p.m.
Aaron Lansky, the Yiddish Book Center's founder and president, shares bold new plans for the coming decade and beyond, including a Universal Yiddish Library and a far-reaching initiative to repatriate Jews with their own literature and culture.
Sunday, July 16, 3 p.m.
Alicia Svigals, the world's greatest klezmer violinist, and accordion wizard Lauren Brody, a major figure in the original klezmer revival, join forces in an electrifying concert of traditional Yiddish folk songs and klezmer tunes.
Sunday, July 16, 4:30 p.m.
Klezmer violinist Alicia Svigals offers a hands-on demonstration of what makes the violin (along with the clarinet) a quintessential instrument of the klezmer ensemble.
Sunday, July 16, 7:30 p.m.
National Heritage fellow and Grammy nominee Andy Statman performs a unique, contemporary fusion of Jewish, jazz, and Americana styles with his longtime musical partners, bassist Jim Whitney and drummer Larry Eagle.