Four-Day festival includes concerts, talks and workshops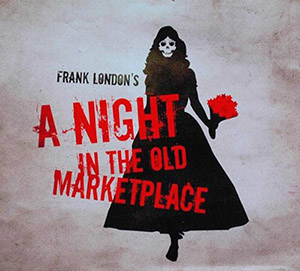 AMHERST, Mass. – The sixth annual Yidstock: The Festival of New Yiddish Music will feature a performance of  "A Night in the Old Marketplace," a multimedia folk oratorio by Frank London, a founding member of the Klezmatics.
 The four-day festival—July 13 to 16 at the Yiddish Book Center in Amherst,—will also include performances by a diverse group of bands: the Andy Statman Trio, Ezekiel's Wheels Klezmer Band, the Hankus Netsky and Eden MacAdam-Somer Duo, the Nigunim Trio, the Alicia Svigals and Lauren Brody Duo, and the Klezmer Brass Allstars, led by London and singer and theater star Eleanor Reissa.
A Night in the Old Marketplace" is a post-modern, musical retelling of the surrealist 1907 play of the same name, by Yiddish writer I.L. Peretz, that is part ghost story, part philosophical meditation on the modern Jewish experience. The musical version—which some critics have called "beautifully scored and visually stunning" and "wickedly funny"—will feature London and his Klezmatics bandmate Lorin Sklamberg. The show will be performed once at Yidstock, at 8 p.m. on Saturday, July 15.
That afternoon at 3 p.m., Yiddish theater scholar Debra Caplan will give a talk, "A Love Letter to the Yiddish Stage: I.L. Peretz's "A Night in the Old Marketplace," about the play and its production history. Caplan's talk is one of a dozen lectures and workshops scheduled over the course of Yidstock to give festivalgoers context about the performances they're seeing. Other talks and workshops focus on the history of klezmer, the music of the Chasidim, and Yiddish dance.
The full Yidstock schedule and ticket information may be found at yiddishbook.center.org/yidstock.