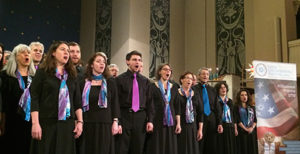 The Zamir Chorale of Boston in celebration of its 50th anniversary year will create a virtual choir featuring Louis Lewandowski's  "Halleluyoh." The goal of the choir is to introduce the music of Lewandowski to singers, conductors and audiences worldwide. Zamir's 50th kick-off event is set for Oct. 11.
The "Halleluyoh Virtual Choir" will include performances by hundreds of singers from around the world and incorporate visual history about Lewandowski and his community.
Singers from different locations will  have an opportunity to share their passion for choral singing in a new and unique way. Individuals will sit in front of a computer and video-record themselves singing part of Lewandowski's "Halleluyoh." Recordings will then be uploaded to YouTube.
Organizers will take these recordings and synchronize them to make one enormous virtual choir —an ensemble of hundreds of voices from around the world, united.
The Zamir Chorale seeks eager singers and will provide instruction on how it is done.
Those interested in participating are asked to complete a form at https://goo.gl/forms/lHgxww5bDkS8bNJX2 and to then visit https://www.zcbvirtualchoir.com for instructions on how to submit a video.
The deadline is May 31 so that organizers can put all parts together to debut "Halleluyoh" on Oct. 11.
Information may be obtained by e-mailing manager@zamir.org.