ALBANY – Many talents of the region's Jewish community will be on display at B'nai Sholom Reform Congregation's Beit Kafeh ("Coffeehouse")  on Saturday, Nov. 12, at 7 p.m. at the synagogue, 420 Whitehall Rd, Albany.  Hosted by singer/songwriters Phil Teumim and Will Vail, the free program will showcase singing, storytelling, poetry recitation and musicianship of some of the Jewish community.
First part of the evening will be an open mic.  Everyone  attending is invited to perform: sing a song, play an instrument, tell a story, read poems or tell a joke or two.  
Individuals may listen and appreciate, or perform and be appreciated.  

After intermission, featured artists Will Vail, Phil Teumim and guests will perform.
To attend or to perform, advance registration is required by e-mail to [email protected].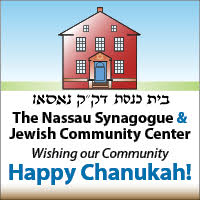 B'nai Sholom  monitors the rapidly changing COVID situation and follows state and CDC health guidelines regarding masking and social distancing. Coffee, refreshments and masking requirements will depend on the CDC COVID-19 Community Level at the time of the coffeehouse.
Information may be obtained at www.bnaisholomalbany.org or by contacting the B'nai Sholom office at 518-482-5283 or [email protected].