ALBANY – Jeffrey Handelman is the new board chairman of the Jewish Federation of Northeastern New York (JFNENY) as of its July 20 annual meeting.
Joining Handelman on the board as officers are: Mindy Holland, chairwoman-elect and vice chairwoman (Campaign); Jessica Hausler, vice chairwoman (Women's Philanthropy); Douglas Goldman, vice chairman (Grants Allocations and Programming); Jill Goodman, secretary; Erik Lustgarten, treasurer; Dr. Edward Wladis, assistant treasurer; Phyllis Wang, Immediate past-chairwoman; and Robert Finkle, Second Immediate past-chairman.
Other JFNENY board members for 2023-24 are: Joy Davidoff, Richard Dolins, Robert Dorkin, Marc Ehrlich, Ilene Friedman, Lev Ginsburg, Cheryl Hoffmann, Jesse Holland,Dr. Edward Jacobs, Stephen Justa, Dr. Steven Kamenir, Rabbi Robert Kasman, Stephen Krakower, Bette Kraut, Mark Levine, Paula Metzner, Abby Nash, Louis-Jack Pozner, Rona J. Pozner, Lee Rosen Jonathan Rosenblum, BJ Rosenfeld, Bruce Rotor, Joshua Sabo, Gail Sacco, Pinchas Shabat, Dr. Malcolm Sherman, Dr. Robin Solomon, Jerome Sykes, Sharon Watkins-Fox, Daniel Weinberg, Gary Weiskopf, Dr. Ira Zackon, and Deborah Zamer.

Mindy and Jesse Holland were presented with the JFNENY's highest honor, the Sidney Albert Community Service Award, presented annually to those leaders within the Jewish community who have demonstrated a lifetime of Jewish community involvement.
Jesse is a former treasurer of Congregation Gates of Heaven and recipient of its 2019 Distinguished Service Award. He has also served on the Foundation Board of Daughters of Sarah and the local Jewish National Fund Chapter. He is on the JFNENY Board and serves as chairman of the Endowment Board of Governors and Life and Legacy Community chairman.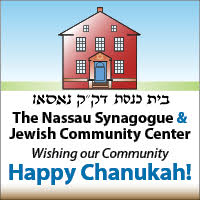 Mindy is a past president of Congregation Gates of Heaven and serves as its congregational librarian and a leader of its Life and Legacy Team. Mindy, too, serves on the JFNENY board and is the current campaign chairwoman and board chair-elect. In 2022, Mindy received Gates of Heaven's Distinguished Service Award.
Jesse Holland was elected chairman of the Endowment Board of Governors. Other members of that board are: Joshua Sabo (vice chairman), Gail Kendall (treasurer), Dr. Robin Solomon (secretary) Daniel Weinberg (vice chairman, investment), Jerome Sykes (immediate past chairman), David Brown, Stacy Cohen, Steve Egna, Marc Ehrlich, James Finale, Robert Finkle, Harlan Harrison, Ruth Heller, Dr. Steven Huz, Mark Israel, Dr. Edward Jacobs, Dr. Steven Jarrett, Stephen Krakower, Barry Larner, Megan McCabe, Rabbi Dan Ornstein, Louis-Jack Pozner, Debbie Ratner, Alan Richer, Keith Roland, Lee Rosen, Seth Rosenblum, Peter Rosenfeld, Caroline Seligman, David E. Siegfeld, Phyllis A. Wang and Daniel Weinberg.
During the program, outgoing JFNENY board chairwoman, Phyllis Wang, presented Jill Goodman with the President's Award in recognition of her service to the JFNENY, Congregation Beth Emeth and the Capital Region Jewish community.
"We are very fortunate to have so many dedicated and talented leaders in our community to help provide for the Jewish community," said JFNENY CEO Rob Kovach. "We are all excited to see our community go from strength to strength."