The Jewish Federation of Northeastern New York (JFNENY) will host a north country program featuring Ben M. Freeman entitled, "Reclaiming our Story: The Pursuit of Jewish Pride" on Sunday, Oct. 30, from 5 to 7:30 p.m. at the Saratoga City Center, 522 Broadway, Saratoga Springs. The event will also include wine, hors d'oeuvres and a dessert reception. The fund-raising program is open to all.
Freeman is the founder of the modern "Jewish Pride" movement. He is also the author of Jewish Pride: Rebuilding a People and the second in a planned trilogy, Reclaiming Our Story: The Pursuit of Jewish Pride. The gay Jewish author and educator will focus on Jewish identity and historical and contemporary Jew-hatred. 
A Holocaust scholar, Freeman came to prominence during the British Corbyn /Labour Jew-hate crisis.

According to organizers, Freeman uses his experiences to educate, inspire and empower his Jewish readers to look inside themselves – with empathy and without shame – to identify their own experiences with internalized anti-Jewishness so they can reclaim their Jewish stories, ultimately moving from prejudice to pride.
After the conversation Freeman's books will be sold and a book signing with Freeman is slated.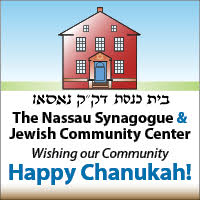 Individuals may purchase a ticket for $36 at www.jewishfedny.org/north-country-event. Information may be obtained by contacting JFNENY at 518-783-7800 or [email protected].
JFNENY's North Country event is supervised by Vaad Hakashruth of the Capital District. It is supported by Clifton Park Chabad, Congregation Shaara Tfille (Saratoga Springs), Congregation Shaaray Tefila (Glens Falls), Havurah Vatik from the Senior Citizens Group of Saratoga County, Jewish Student Life Program at Skidmore College, Knesseth Israel Synagogue (Gloversville), Saratoga Chabad, Saratoga Jewish Community Arts, Temple Beth El (Glens Falls) and Temple Sinai (Saratoga Springs).