(JNS)
Former U.S. President Donald Trump attacked American Jewish voters who supported Joe Biden in the 2020 election, in a Rosh Hashanah greeting posted Monday, Sept. 18, to his Truth Social media platform.
Tells off Non Fans
"Just a quick reminder for liberal Jews who voted to destroy America & Israel because you believed false narratives! Let's hope you learned from your mistake & make better choices moving forward! Happy New Year!" wrote the Republican, who is running for a second consecutive time against Democratic rival Biden for the White House in 2024.

Trump's Achievements
Trump then shared a flyer from a group, JEXIT (Jews Exiting the Democrat Party), formed in 2018 to counter what its supporters believe is the Democratic Party's abandonment of Israel and the American Jewish community. The post lists Trump's achievements for Israel and the Jewish community during his time as the president from 2017 to 2021.
They include moving the U.S. embassy from Tel Aviv to Israel's capital, Jerusalem; recognizing Israeli sovereignty over the Golan Heights; recognizing Israeli sovereignty over communities in Judea and Samaria; signing an executive order for Judaism to be a nationality in addition to a religion so as to fall under the protections of Title VI of the 1964 Civil Rights Act; and signing the "Never Again" Holocaust education bill into law.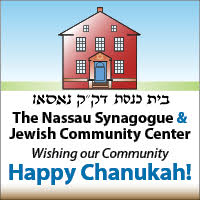 Jewish Vote Today
A poll on the 2020 election showed that 77% of Jewish voters chose Biden over Trump and a Jewish Electoral Institute survey from June of this year found that 72% of Jewish voters favor Biden for the 2024 race versus 22% supporting Trump.
However, nationally Trump leads Biden by 1 percentage point (50-49), according to a CBS News poll published on Sunday, Sept. 17.