SARATOGA SPRINGS – Congregation Shaara Tfille and The Jewish Community Center of Saratoga Springs, 84 Weibel Ave. has announced a breakfast featuring the animated film, "Tattooed Torah," followed by a live discussion with Dr. Tomáš Kraus of Prague, Czechoslovakia, on Sunday, Nov. 6. The breakfast begins at 9:30 a.m. with the movie and discussion beginning at 10 a.m.
When the Nazis ruled Czechoslovakia, Judaica items were confiscated possibly for a Museum of An Extinct Race. Many Torah scrolls were brought to Prague. The Jewish community of Czechoslovakia was decimated during the Holocaust. Then, during the Communist take over of Czechoslovakia many of the scrolls were dispersed around the world, according to breakfast organizers. 
One reached Chicago and inspired Marvell Ginsburg to write a children's book, The Tattooed Torah. The true story, which was made into animated film, recounts the rescue and restoration of a small Torah from Brno, Czechoslovakia. Torah is regarded by Jews  as the most "precious possession" of the Jewish people. Narrated by actor Ed Asner, according to organizers, the film teaches about the Holocaust in a manner appropriate for youth.

Kraus who is a graduate of law school from Prague's Charles University, has worked in the Czech music industry and for an agency for creative artists. Since 1991, he has been the executive director of the Federation of Jewish Communities in the Czech Republic. Kraus has participated other efforts to rectify the injustices caused by the two totalitarian regimes, Nazism and Communism. 
Kraus is one of the founding members of B'nai B'rith Renaissance Lodge, was elected vice president of the World Jewish Congress, vice president of the European Jewish Congress and a representative of the American Jewish Committee for the Czech Republic. Also, he has taught at New York University and in Prague.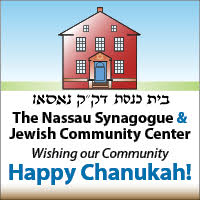 Judith Ehrenshaft, past president of Congregation Sharra Tfille's Board of Directors and current sisterhood president, has known Kraus and was instrumental in his appearance at the synagogue.  
The cost is $15 per person. Attendees must show proof of COVID vaccinations and masks will be optional. Reservations and information may be obtained at 518-584-2370 or [email protected].