SCHENECTADY – The Schenectady Jewish Community Center (SJCC), 2565 Balltown Rd., will bring back its monthly film festival, with virtual and in-house offerings from September to December.
"Breaking Bread" (2020), a documentary about Arab and Jewish chefs as they work in tandem to foster social change with dishes and a shared love of cooking may be screened "virtually" from Thursday, Sept. 15 to Sunday, Sept. 18. The first in the film series will feature an in-house show at the Center set for Sunday, Sept. 18 at 4 p.m. This 85-minute film will be shown in English and Hebrew with English subtitles and on Sept. 18, a live Zoom discussion with film director Beth Elise Hawk will be at 7:30 p.m.
The film series continues on Oct. 19, to Sunday, Oct. 23 with "Return to Auschwitz: The Survival of Vladimir Munk."

The movie "Tiger Within is slated for "virtual viewing" from Wednesday, Nov. 16, to Sunday, Nov. 20.
The "The Automat", a 79-minute documentary film, follows the reminiscences of a host of prominent one-time customers of the Horn & Hardart Automat. The film will be available for "virtual" viewing from Thursday, Dec. 8, to Sunday Dec. 11.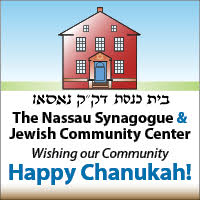 A festival pass to watch all four films and to participate in the live discussions that follow is available to purchase for $20 for Center members and $40 for non-members. Individual tickets for each film are $6 for members and $10 for non-members. In-house tickets are per person and include the film shown on a big screen and refreshments served in a separate room.
Information and tickets may be obtained http://www.schenectadyjcc.org/events/jewish-film-festival/ or by contacting Judy Ben-Ami at [email protected].