By ALAN ZEITLIN
(JNS)
Chanukah music videos have been released that are bound to get people's attention. All texplicitly or implicitly reference the rise in anti-Semitism.
The first is from rapper Nissim Black, who now lives in Israel. The video for the song "Victory" has Black alternately wearing the yellow robe of a boxer and a tallit prayer shawl as well as the black robe he most often wears.

Produced in conjunction with Friends of the Israel Philharmonic Orchestra, he raps "small in numbers but we're strong now/we share the news and show the world how/we didn't fall down." While he first shadowboxes, he eventually knocks the helmet off someone appearing to be dressed as a Greek soldier with a punch.
Rapper Kosha Dillz, whose real name is Rami Matan Even-Esh, comes in on a white horse in the music video "Happy Chinooka" (A Hanukkah Song)." Set in a western-style bar, a party seems to have no attendees at first, because the title was incorrectly written. But the festivities begin and the song features the music and original composition of the bluegrass and hip-hop group Gangstagrass, who join Dilzz for the phrase of the title.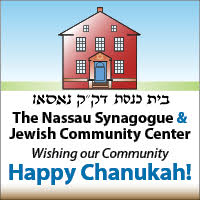 "… got menorahs now and they try to go and kill us in the streets…," Kosha Dillz raps in the video, which includes dreidels, a goat, a cow and party revelers. Dillz raps, "currently bigotry is not outdated/these days people gettin' too intimidated," referring to anti-Semitism and racism.
Black and Kosha Dillz both recently appeared on ABC News' "Nightline" program and was streamed on Hulu, that addressed the rise of anti-semitism and the fallout from the comments by Ye, formerly known as Kanye West.
Last year, Black and Kosha Dillz released "The Hannukah Video 2.0"; a remix of the song is available on Spotify and other music outlets.
Six13, a New York-based Jewish all-male a cappella singing group, has released a medley of Elton John parodies called "Elton Johnukah" that, among other things, changes the lyrics from "Tiny Dancer" to "Spin a Gimmel Tiny Dreidel." The group members wear various festive outfits. "Rocketman" becomes "Latkeman" and "Candle in the Wind" becomes "Candles In The Window." The medley ends with "We're Still Standing" instead of "I'm Still Standing."
Randy Rainbow also addressed anti-Semitism  in his recent fake Hebrew blessing of the chanukiah candles, https://www.youtube.com/watch?v=K-MErnAvXdY.