By MOLLIE KATZEN
(2014 / JNS)
Fresh cheese is a staple in classic Shavuot foods (The holiday begins this year on May 25 at sunset.),  traditionally wrapped in a soft, egg-like blintz that is then fried lightly in butter. Variations on this theme can keep things interesting and expand your kitchen craft.
Cheesecake is another way to expand the joy of this holiday. Small cheesecake bars, topped with early strawberries, are a wonderful way to usher in the transition-to-summer month of June.

Cheesecake Bars
If you love cheesecake, but feel guilty after eating it, pursue it in a small way instead. These bars hit that spot perfectly, especially when adorned with a perfect small, ripe strawberry.
Yield: About 1 1/2 dozen.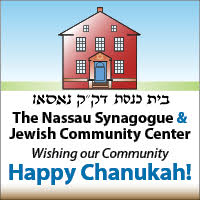 Subscribe to The JNS Daily Syndicate by email and never miss our top stories
Ingredients:
1/2 cup (packed) light brown sugar
1 1/2 cups unbleached all-purpose flour
1/2 teaspoon salt
1/2 cup (1 stick) unsalted butter, melted
1 1/2 cups cottage cheese
1/2 cup (half an 8-ounce package) cream cheese, softened
1/3 cup granulated sugar
1 1/2 teaspoons pure vanilla extract
2 teaspoons fresh lemon juice
2 large eggs, beaten
A handful or two ripe strawberries (optional)
Directions:
1. Preheat the oven to 350°F (or 325°F if using a glass pan). Have ready a 6-by-9 inch baking pan (ungreased) or the equivalent.
2. In a medium sized bowl, combine the flour with 1/4 teaspoon of the salt, and the brown sugar, crumbling the sugar into the flour with your hands until uniformly distributed. Add the melted butter, and stir to thoroughly combine. Press this mixture firmly into the bottom of the pan.
3. Combine the cottage cheese, cream cheese, granulated sugar, vanilla, lemon juice, and eggs in the bowl of a food processor, and buzz until completely smooth. Pour this mixture into the pan, spreading it into place.
4. Bake in the center of the oven for 30 minutes, or until the top surface is firm to the touch. Remove from the oven, and allow it to cool completely before chilling. Let it chill for at least two hours, and serve cold,
Mollie Katzen is listed by the New York Timesas one of the best-selling cookbook authors of all time and has been named by Health Magazine as one of "The Five Women Who Changed the Way We Eat." Her book,The Heart of the Plate: Vegetarian Recipes for a New Generation was published in September 2013 by Houghton Mifflin Harcourt.