ALBANY – Congregation Beth Emeth will host this year's Founders' Day Shabbat on Friday, March 24, at the synagogue, 100 Academy Rd. at 7:30 p.m. Cantor Howard M. Stahl, who had served Beth Emeth for 17 years, will be the featured guest as area Reform congregations join to celebrate their founding leaders.
A choir drawn from area Reform congregations, which included Beth Emeth, B'nai Shalom in Albany, Berith Sholom of Troy and Gates of Heaven Synagogue in Schenectady, will be a highlight of the service. The Shabbat on the Shabbat closest to the birthday and yahrtzeit of Rabbi Isaac Mayer Wise and also celebrates Rabbi Stephen Wise (no relation) for his contributions to American Judaism.
For Beth Emeth, this year's service is particularly significant, marking the start of the congregation's 185th anniversary year and Senior Rabbi Scott Shpeen's retirement at the end of June. It also will be the first Founders' Day service in Albany for Co-Senior Rabbi Greg Weitzman.

"The spirit of the service and the sense of community it fosters is always heartwarming and meaningful. This year, again, in addition to the participation of the clergy from each synagogue, members of the various volunteer congregational choirs will also be coming together again, under the direction of Cantor (Sharon) Kohn, which always greatly enhances our worship experience," Shpeen said.
He added, "Our annual Founders' Day Service has always been a wonderful opportunity to join together with the other Reform congregations in our region not only to share Shabbat BUT to celebrate our common history, connection and philosophical commitment to Reform Judaism."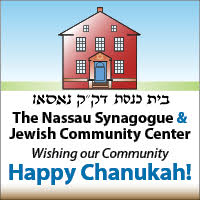 Cantor Stahl came to Beth Emeth in 1972 after receiving his ordination from Hebrew Union College-Jewish Institute of Religion, School of Sacred Music. After serving Beth Emeth, in 1989, he became cantor at Temple Israel of Lawrence, NY. In 1999, Stahl joined Congregation B'nai Jeshurun in Short Hills, NJ. where he is now senior cantor emeritus. He also earned a master's degree in social work from the University at Albany.
In addition to taking part in the service, Stahl will join with some of the many b'nai mitzvot students and youth group members he worked with on Thursday, March 23, at a Beth Emeth Youth Group alumni dinner.
Shpeen praised Stahl. "When I first arrived at Beth Emeth in June 1985, as a newly ordained rabbi, Howard Stahl was the cantor at Beth Emeth then and warmly welcomed me, nurtured my beginnings at the congregation and, in many ways, helped to mentor me as I embarked on my rabbinate at Beth Emeth.  His presence, his spirit and his magnificent voice will, I am sure, greatly enhance our Shabbat celebration," Shpeen said.
Beth Emeth is the fourth oldest Reform congregation in the United States, preceded by Baltimore, Charleston, S.C. and New York City.  It was founded at a gathering on March 25, 1838 as Temple Beth El. In 1846 it hired Mayer Wise, born March 26, 1819, in Bohemia, as its first rabbi. Famously, Wise's changes in the liturgy and other practices did not sit well with some congregants and a fight occurred at Rosh Hashanah services in 1850. Wise left Albany, and eventually went to Cincinnati, where he founded the Union of American Hebrew Congregations in 1873; it is now the Union for Reform Judaism. Temple Beth El and its offshoot Anshe Emeth reunited in 1885 to become Congregation Beth Emeth.
Stephen Wise, the other founder, was born in Budapest in 1874 and came to New York as an infant. The son and grandson of rabbis, he became a spokesman for American Jews in the early part of the 20th century, championing progressive causes and Zionism.